"This place is dead", I hear constantly. It's the refrain from both locals and visitors who just aren't paying attention to the awesomeness that is Prince Edward County in the deep, dark winter months.
Yes, it's a contrast from the buzz of the warm season and, of course, the beaches are breathtaking when it's hot, the restaurant patios are dreamy, the cellars and keg-rooms are full of happy people enjoying the fruits of our toil…but, in winter, we go deep. We connect. We brainstorm and test insanely cool concepts. We enjoy the County wonderland and throw awesome parties in it. In February, we get crazy. And we love it when everyone's on board.
From friendly hockey rivalries at the breweries, players in winter beards and layers of local beer gear, big pots of chilli cooking over a fire in the snow, wine geeks and food nerds warming up in the cozy tasting bar with a glass of Pinot in one hand and a hot County Pasty in the other. Artists and art-lovers creating together and enjoying colourful huts that house avant-garde outdoor exhibits, while knitted-up, down-filled families tote around their County kids—decked out from snowsuits to skates. We are a vision of modern Canadiana and we all like to party—so when winter comes, we get right into it in the coolest way possible.
Here are some of our top picks for the best of February in the best place on earth—Prince Edward County.
1st | The Cellar Salon's 2020 Launch Party
Where Merrill House (Picton)
What This event's close to our hearts because we're throwing it! Alongside our friends Jordan Martin, Owner of Merrill House, Wine Director Astrid Young and guest-hosted by the awesomest Exec Direc of PECWA (the Prince Edward County Winegrowers Association), Duarte Da Silva. Expect an awesome tasting experience with the Duartiest theme imaginable: Women in Wine. He'll be taking us through nine great wines owned and/or made by women. From PEC to Spain, this lineup represents some powerful female forces in the world of wine and it's going to be amazing.
*Can't make the 1st? We will be partying at MH, throwing the Cellar Salon every Tuesday in 2020 from 3-5pm with various themes + hosts. Check out LIFE AU LAIT Instagram/Facebook or sign up for Merrill House's Newsletter for all details!
Tickets + Cost
Just show up! $20 County Lineup (6 County wines) / $15 Elsewhere Lineup (3 wines from other regions) / $33 Full Tasting (6 County Wines + 3 Elsewhere Wines + a secret bonus pour!)
Time 3-5PM
1-2nd & 8-9th | ICE BOX: Art in the Heart of Winter
Where Macaulay Park, Picton
What The County's awesome Department of Illumination headed up by the wonderful maker-connector Krista Dalby (our very first Artist-In-Residence) is throwing it's second annual ICE BOX festival at, and in partnership with, Macaulay Park.
A wonderland built into a vast niche of snow and ice promises a return of the pretty brightly coloured huts, each housing the five new interactive art installations led by local artists in collaboration with community members. Expect a stream of magical programming filled art, music, fire-dancing (and regular dancing), sitting on haybales around the campfire, snow maple taffy making and eating, and surprises (like an intimate show with County friend and Juno Award-winning artist Justin Rutledge)—this is such a great fam affair and the best way to enjoy the outdoors.
Tickets & Cost While all the programming is free, some events are ticketed. Check the schedule and details here for ticket links. *Donations gratefully accepted!
Times Check the schedule here for programming specs!
2nd | The Super Bowl at Midtown
Where Midtown Brewing Co. (Wellington)
What This is where all the cool kids will be watching the 'Bowl. Midtown's signature game-raderie vibe will be in play and their awesome menu plus food specials will be on tap along with their signature brews. Even though we are firmly in the "Go Sports!" camp, we will definitely be there because this will be a right party.
Tickets + Cost Just show up for the game and food specials.
Schedule
4PM Game Day Festivities Begin
6:30PM Kickoff
7th | 3rd Annual Midtown 3-on-3 Outdoor Classic
Where Midtown Brewing Co. (Wellington)
What We're lucky that our local brewers are into hockey, because between the new East-side rink at Parson's Brewery in Picton and the much-loved West-side rink at Midtown Brewery in Wellington, we're ready to shinny all winter long. In it's third year, Midtown's 3-on-3 Outdoor Classic is already a County tradition. A two-day event for all skill levels followed by an epic tailgate outside with hot food and cold beer. Play, watch, or sip some brews—all are welcome to join in the fun. Good Vibes Note: Proceeds will benefit CML Snider School.
Time First puck drops at 6pm, followed by 10 minute games till they have a champ.
Contact [email protected] to register.
8th + 15th | County Cheese Fondue Party
Where Beacon Bike + Brew (Picton)
The Beacon has established itself as the bike-toting "Cheers" of Prince Edward County. You can't step inside this pretty space without seeing basically everyone and even though it's a great place to work (there's a kids play area and coffee/wine on tap) you should expect to get up for handshakes and hugs every few minutes. It's also a good place for chilling out with your frenz and Jordan + Steph's concept events are just sprinkles on top. This Feb, Beacon is spreading the fondue love in this winter-friendly 70s culinary revival. Enjoy their modernized, less messy take on the classic, served in bread bowls from the awesome Kaleidoscope Kitchen, kings of the County Challah, alongside local cheeses, pickles, and apples.
Tickets + Cost Just show up for fondue. $15 per person
Time 2PM-6PM
9th | Dance-Your-Pants-Off Party
Where Parsons Brewing Co. (Picton)
What The amazing Samantha Parsons has been dreaming up this "Dance Your Pants Off" full moon party for a few months now and we're so excited that it's finally on the books. While we'd love to dance directly under the moon, thankfully the party will go down inside the beautiful brewery with the massively talented Mel and D'ari from Villas spinning killer tunes all evening. Parsons' magical beer will be flowing along with cider, wine and delish food. Oh, did we mention Tarot readings? Well yeah, there's that too for when your feet get tired.
Tickets & Cost Advance tickets $20, door $25
Time Doors at 8PM, bar open 'til 12AM, Tarot Readings by Leigh Nash 8PM-10PM,
*Note* Your cover includes a ride home within 20 km! Cabs will be parked outside between 10:30PM-12:30AM. Minimum 4 passengers per ride
*Update* Tickets are going fast and will cap soon, so if you're coming to dance with us, get them quick!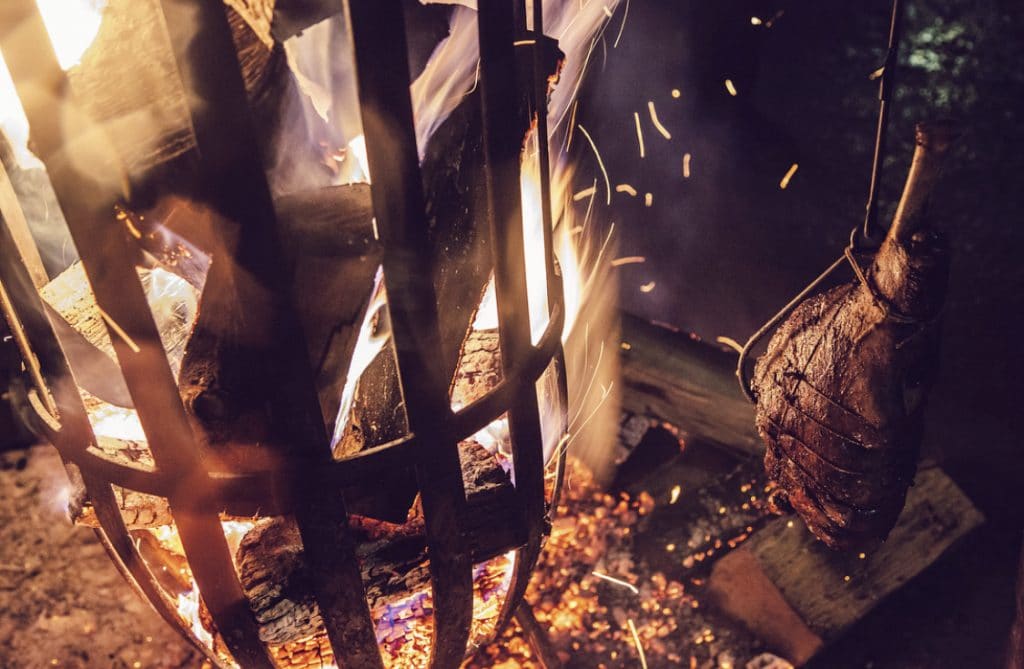 14th | Valentine's Day
Valentine's Day here is as County as everything else. Instead of hiking up the hype for your romantic day, the local master eateries are making sure that this day of love is authentically feel-good for palentines, solos, oh and couples too! Best of all? The prices aren't inflated with Valentine's Tax.
Our friends at F+S are the best. Really. We totally appreciate the "No Presh Valentine's Day" they're throwing this year. For real, come in and have a burger. Or have the $69 tasting menu. Come solo or as a couple or bring your buddy or everyone you know. Valentine's is about love, ya know? These guys put love and heart and everything they have into everything they do and I sort of want to hit up the restaurant on the 14th just to share some love with them! Doors Open at 5pm, but definitely book ahead for resos if you want a seat…or two…or 20 🙂
No big thing here, except it's a big thing— For one night only, the darlings at Condesa will be accepting reservations for dinner. Like, totally woah, that's awesome news if your S.O. is obsessed with tuna tostadas and you would have had to show up way early and camp out in the February snow to make sure you could get a seat. Oh and they'll have a secret signature cocktail definitely made with love, but I don't have any other details because they're in Peru and Australia right now, gathering inspiration and knowledge from the universe to channel into your Valentine's Day dinner.
Hit up the Dev on Feb 14 (and 15th to spread the love an extra day) for their $42 prix fixe 3-course dinner highlighting the flavours and ingredients of the County. The menu is designed to be enjoyed easily in groups larger than a couple, allowing for everyone to get in on the heart-filled fun together and awesomest of all—diners at every table will also receive a complimentary photobooth coupon with purchase of their main 🙂
Full disclosure, V-Day doesn't make our hearts beat faster, but there's nothing that will top this Feb 14th event for us: Valentine's Curryoke at Midtown is going to be another one for the books. Let's eat some curry then all sing our hearts out together on the most loving of nights. Note: "Islands in the Stream" will be available. Curry 7-9PM / Karaoke 8-11PM.
15-17th | Vintnerfest
When All weekend (hours vary by location)
Where Wineries across PEC
What PECWA, the Prince Edward County Winegrowers Association brings us Vinterfest, offering winter art, food, and wine pairings in 13 unique County winery venues.
15-16 Sweatpants and Caviar at Hinterland
This year Hinterland is switching up their beloved annual winter Hinterlude party (3 great chefs, 3 dishes prepared outdoors, Vote with your bowl) for an event that totally capture's the spirit of the County in true Hinterland fashion. The best of food and wine without the BS. Come in your cozy sweats and enjoy Acadian Caviar from New Brunswick paired with some of the best sparkling wine in the country. Order your tin in advance; dress code in effect 🙂 11am-5pm
15-16 French Toast Brunch at Trail Estate
Come for the "hot, ice-wine drenched French Toast, fresh fruit, maple cream and vineyard views" stay for Mackenzie's awesome natural wines and the release of their 2019 Pet Nat Red. $10 a ticket for the grub, there will be complimentary samples of the release all weekend and glasses for $7. 10am-2pm
15-17 Nordic Vinter at Redtail
Redtail is the winery to watch in the County and they're going all out this Vinterfest with a Scandinavian raw bar and private cellar tastings with the winemaker. Warm up around the outdoor fire pit with a hot cup of Swedish Glögg (mulled wine) and enjoy oysters, housemade gravlax, and shrimp on rye (Smørrebrød) in their Farmhouse tasting room. 11am-4pm
15-17 Caribbean & Wine at Lacey Estates
The folks at Lacey have teamed up with Chicos Caribbean to bring some sunshine to "vinter", pairing yummy potatoe balls, stuffed with sweet and spicy beef, famous bao buns and veg samosas. Kids drink free (but not the same stuff you'll be drinking!) 11am-5pm
15-17 Lobster & Chard at Closson Chase
We don't mess around with Chard and neither does Closson. This will be infinitely civilized and definitely delish. 12pm-4pm
15-17 Marshmallows & Meat Cones at Three Dog Winery
Live Music on Saturday and Sunday, as well as a good old fashioned marshmallow roast, their famous "meat cones" and, of course, wine. 11am-5pm
15 Annual Ski Doo Suit Bunny Dance Party at Karlo Estates
Grab a glass and get snuggly in the Wine Lounge until you're ready to hit the dance floor for Karlo's insanely titled, Annual Ski Doo Suit Bunny Dance Party. If you can get hold of a snazzy 1970's Ski-Doo Suit or assemble a wicked Ski Bunny Outfit, you could take the top prizes (and at Karlo, the prizes are typically delicious.) Bonus: a bonfire to dance around or roast marshmallows over, as well as complimentary hot choc for the kids. 2pm-6pm
15-16 Enhanced Wine & Pasty Pairing at Sandbanks Winery
Whether you want to sit around their outdoor fire with boozy hot chocolate and s'mores; get your hands dirty with the 'Sip & Paint Party'; or take your wine experience to the next level with a tutored tasting flight of four reserve wines, thoughtfully paired with pasties (aka. the most totally delicious hand-held meal in town from The County Pasty Company and I'm not just saying that…) and local truffles. Book ahead for either event here.
15-17th | FAMILY DAY WEEKEND
In case we haven't mentioned it before (we have), the County is mega fam-friendly. Don't forget that Vinterfest is this weekend, so the whole County will be buzzing and there are very few places where kids aren't welcome, but if you're looking for official Fam Day, non-winery-specific things to do in the County, here are some great picks.
15-16 Family Skate at Parsons' Brewing Co.
Picture this: Winter chilli, mussels, hot chocolate by the rink. Ice, fire, Parsons' perfectly brewed nectar. Making memories in ice skates is a Canadian tradition, right? Eating comfort food cooked by Chef Ian over the fire and out in the snow sounds like a dream to us, but if the fam want to warm up over lunch, Parsons' beyond delish regular menu is always available in their beautiful brewery.
15-17 The Big Spy Adventure at Escape Camp Picton
Escape Camp Picton has designed a special history-inspired theme for this year's Flashback February, including escape rooms in a WW2 air force training base, followed by a slice of Canada War Ration Cake and the option to make your own cipher, just like a real citizen spy. All of their escape rooms are designed for groups as small as two and as large as ten, so bring your partner or the whole fam damily and get ready for an awesome adventure. 11am-7pm
16 | 3rd Annual DJ Halo Kids Dance Party at Midtown Brewery
DJ Halo is one year older and his music collection is one year bigger. Hands down, there's no better event for the little dudes and dudettes all year. And let's be honest, watching your wee babes groove hard while you sip a cold one is basically the most heart-happy thing ever—whether they're shaking those diapers or flossing their pants off, it's all completely adorbs and awesome so get to this party. *Plus, if your small humans are serious talents and/or uber competitive, here's some good news—there are prizes for the bestest moves. 12-3pm
21st | Canteen Dance Party
Where The County Canteen (Picton)
What Things get wild at the Canteen is all I'm saying. And let's be honest, there's NO playlist better than an all-request one. The awesome and multi-talented DJ Ombudsman will be all over your fave tunes from the best musical decades of all time—the 80s, 90s and 00s. Anticipate a stellar mix of Hip Hop, Rn'B, Alt. Rock and good 'ol-fashioned Rock n' Roll. I'm pretty sure this is going to be a good one.
Tickets First come, first served.
Time 9PM-Close
21st | A Speakeasy Murder Mystery
Where The Back Room (Picton)
What The new back room behind the Yum Club is establishing itself as a here-for-you-late-night club with a penchant for 1920s culture and a casual-good vibe. Even though the place just opened on NYE and the regular weekly programming is already stacked and solid, the ladies behind the space still like to pepper in fun events and this sounds like it's going to be no exception. The official event name is "Ain't Misbehavin'" and the vibe is suspicious. If you're up for "interrogating suspects at the hottest juice joint in town, while you try to discover the murderer before the fuzz catch wind"—this is the spot for you.
Tickets $25 tickets via Eventbrite
Time 8PM-10PM (Murder Mystery) / Dance party until 1AM
* Once the murderer has been taken to the clubhouse, guests are invited to stay into the evening and dance!
29th | The Trews & Gord Sinclair
Where The Regent Theatre (Picton)
What Rounding out the month, let's catch a big show at the little Regent. The prolific and multi-hit rock band The Trews are tearing up the County on this very special Leap Day. Having shared the stage with both the Stones AND the Boss, these guys are 100% guaranteed to be an incredibly memorable show.
Tickets + Cost Tickets available at The Regent Theatre
Time 8PM-11PM