"PEC's entrepreneurs are a special breed. We are all heart, spirit and action. We get our hands dirty. We plow our own damn fields + build our own damn pizza ovens. We have five side-hustles to keep our minds sharp, our creativity satisfied, and our bills paid. And everything we do is pure magic. Covid-19 hit us hard, but we are resilient. We don't lie down when there's work to be done, instead, we roll up our denim sleeves and we County up." —Lonelle
"It is up to us to create The County that will emerge after these lost months. I am constantly reminded of how life does not stop moving forward. Even when everything around us was coming to a grinding halt, the bar's closure was not the biggest struggle I was facing. While I was cocooning myself within my familial home, The County was adapting, changing, moving forward and learning to move within a new world." —Gaby
The Project: County Isolation Portraits
We were collaborating on a next County co-lab project and wanted to hear what other entrepreneurs were doing and how they felt. But more than that: we wanted to see them— in situ, from afar. So we reached out and asked. We designed a series of questions and planned our series of isolation portraits of business owners outside their brick and mortars. We won't lie, it was hard. It was critical to us that we maintained safety standards and honoured the distance honestly, but without compromising the ability to capture what was going on in the minds and hearts of our community. It was worth it and while they're not perfect, the portraits speak for themselves, showing people bruised and burdened, but shining with the spirit of hope and elbow grease.
Interview by Gabriele Cole / Photos by Lonelle Selbo
Carbon Art + Design | Hri Neil, Owner
With the closures, Hri has focused on the design element of Carbon, helping local businesses develop an online presence through branding development and website design. Working with budding entrepreneurs, Hri has helped many use their existing skills to build new income streams and bring their side hustle to fruition.
To continue supporting artists, he has moved the gallery online and will feature curated collections on the gallery's website. In a time of fear and uncertainty, art may seem like a luxury but the pandemic has proven that during these times, we rely on the arts more than ever to bring us comfort.
"If it was business as usual tomorrow, I would hope to retain my new understanding that while it's important to do one's best, I can't control everything and that time with my partner and our creatures, and the friendships and community around me are what really matters." 
To view & purchase artwork by local and other Canadian artists, visit
www.carbonartdesign.com | Instagram  @carbonartanddesignpec | Facebook
City Revival | Carolyn Gummo, Owner
Before the mandated shut down, Carolyn was making adjustments to ensure staff and clients felt comfortable, setting up live streaming on both her Facebook page and Instagram feed so that everyone could participate in their popular annual St. Patrick's Day fashion show. She remains patient and adaptable as things move forward, considering what the next few months will look like. When safe, she plans to offer one-on-one shopping appointments that are personalized to each client.
"At City Revival we have a community of clients that I only know from shopping in the store. We didn't have a contact list because we saw them so regularly. I miss the spontaneity of seeing them. I look forward to hearing what they've been up to, what they've been wearing, the funny stories they come in with."
Check out City Revival's new online store with items being added regularly at
www.cityrevival.com | Instagram @city_revival | Facebook
The Back Room | Gaby Cole, Partner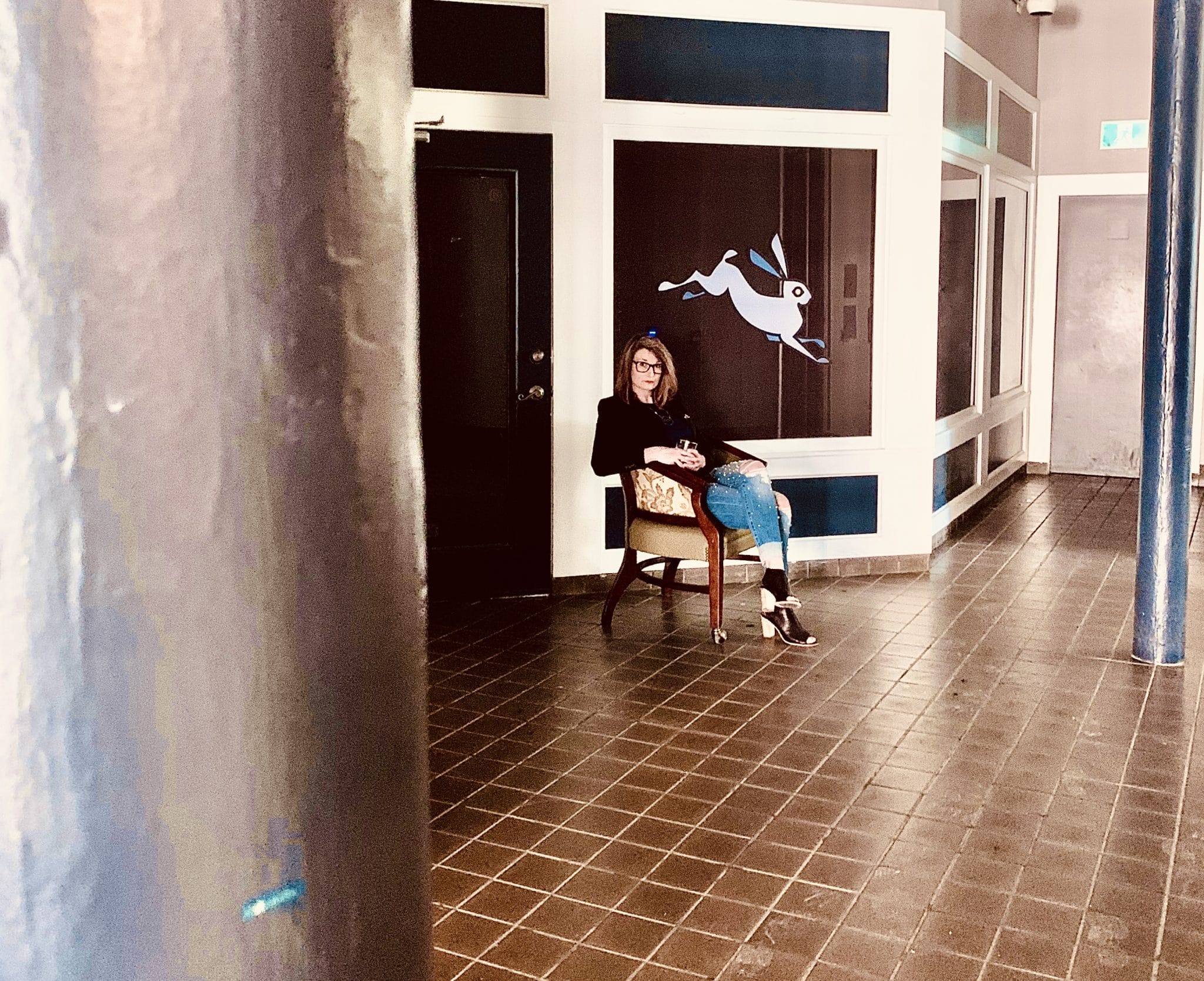 The Back Room opened in the dead of winter, offering a haven to locals who needed a cozy spot for a late night drink. Their eclectic weeks were filled with live jazz, vinyl, and comedy nights. Gaby and Bree were gearing up to launch a fantastic spring menu with creative nibbles and cocktails but switched gears, creating pop ups of menu favourites and amazing cocktail kits.
"We were just setting ourselves up in the community and not many knew we were here yet. I loved that idea of being a local secret and the hallway entrance plays on that. Those that knew about us supported us fervently, and they have since reached out and made sure we are doing okay, letting us know they miss us. We miss you too!"
Find out about their pop ups:
www.thebackroom.ca | Instagram @thebackroom252 | Facebook
The PEC T-Shirt Company | Lucinda Pritchard, Owner
It was a creative step taken purely by chance with a friend from Toronto Public Health considering ways to promote flattening the curve. Since then, their pandemic related t-shirts have raised over one thousand dollars for local charities that support vulnerable people.  "As creators, we will keep looking for stories to tell that connect with people." 
There are at least two more designs to come with positive messages that celebrate some of those surprises we have come to discover through isolation. With each day, Lucinda and her team brainstorm ideas that can help bring happiness to the community in these early days.
"We just go over and over it until we agree we are being ethical. In this case, we lowered our price on the shirts … to $25. Then we decided that we would donate at least 20% of that price to local charities."
Order their Flatten the Curve, H*O*M*E, or Essential t-shirts at:
www.countytshirts.com | Instagram @countytshirts | Facebook
The Regent Theatre | Alexandra Seay, Manager (feat. The Marans, Cleaves)
"We are learning to be flexible and to embrace the opportunity present by our closure to re-define ourselves in terms of how we program, what we program and who we program for."
The Regent has taken time to build their online presence, including the development of a Virtual Screening Room and new forthcoming website. During this time, they have found inspiration in the coordinated acts of kindness from the community and will continue to grow their programming with this in mind.
"Our community has demonstrated time and again their overwhelming support for us here at The Regent. With gratitude for our community, we're in the midst of planning an exciting pivot in our programming to meet the evolving times, for the communities enjoyment and safety, and be the best Regent we can be for the County."
Sign up for the newsletter to find out about screenings + more.
www.theregenttheatre.org   | Instagram @regenttheatrepicton | Facebook
Support The Regent by becoming a member:  http://www.theregenttheatre.org/membership-form/
Vicki's Veggies | Vicki Emlaw, Owner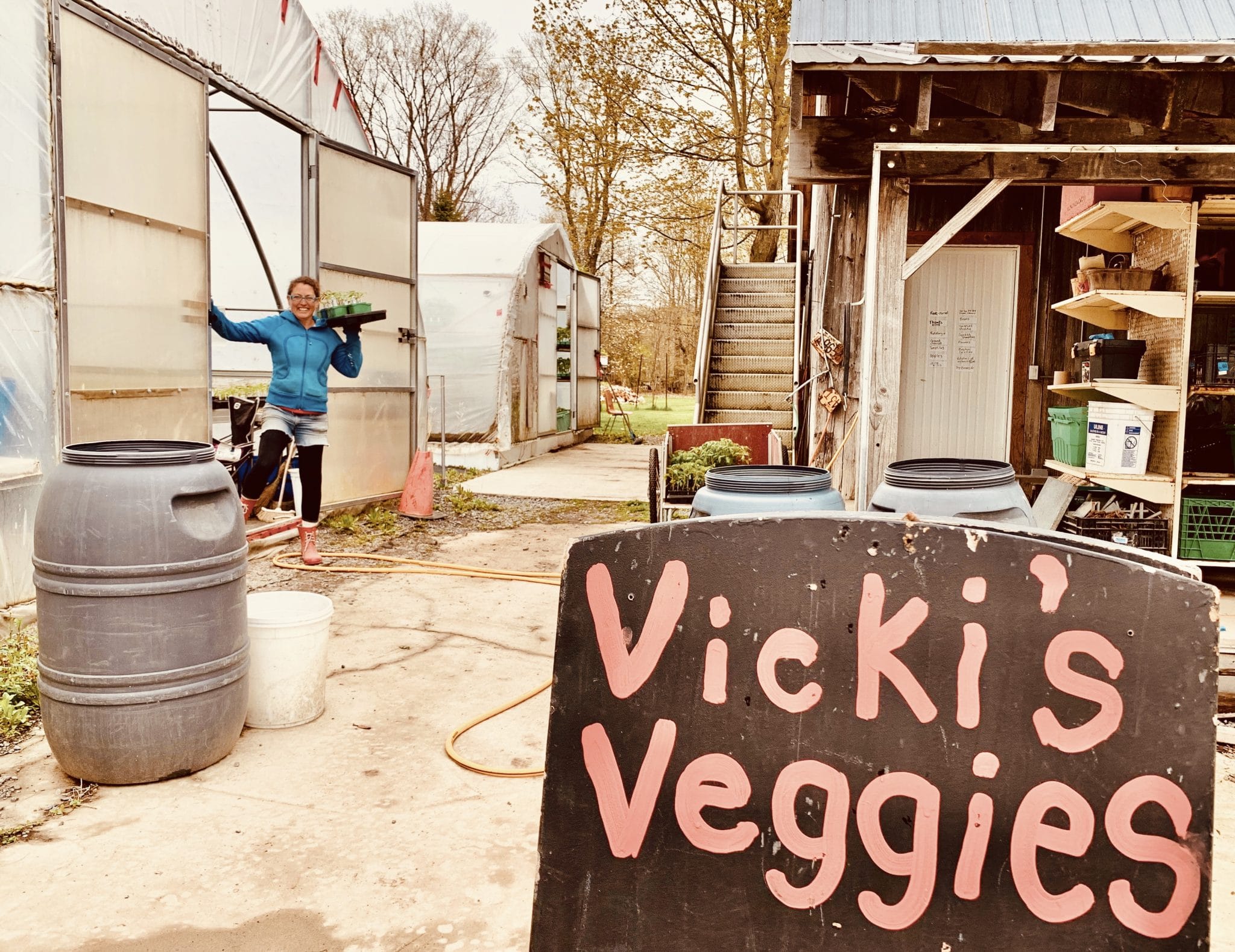 The Heirloom Tomato Seedling Sale is one of our bigger traditions and a true harbinger of spring. This year, Vicki's 6,000 seedlings left her farm by touchless drive through. A huge additional undertaking, the farm took in orders from every social media platform and received thousands of e-emails. "Luckily, my sister is a very organized school teacher and knows how to use a computer very well … which I do not." With the help of her family, Vicki has created a system where she is able to continue to offer seedlings so that people can grow their own food.
The roadside stand is now open for self-serve at 81 Morrison Point Road. And for those who just can't make it out to the stand,
"I'm also doing local delivery of seedlings for people who don't feel safe to go out yet."
Website | Instagram | Facebook
The Bean Counter | Kirstyn Mayers, New Owner
Had it been business as usual, I would be writing this article from The Bean Counter. It is a longtime staple of The County, typically buzzing with friends catching up, meetings and those like me, buried in their writing.
Knowing it's importance to the community, Kirstyn was eager to take up the helm and retain the traditions of the cafe, meeting the demands of the new climate. Currently the head of marketing at Redtail Vineyards, managing the move from tasting room to online sales, she will also bring this new knowledge to the cafe.
Current owners of The Bean Counter, Deb and Art, have started offering take away, which will be carried on as Kirstyn takes over in June. Her own recipes are already being added to the menu—like Outlet Food Co.'s much loved spicy jerk roti.
"I'm working on some meal ideas that can be kept in the freezer or pantry and easily heated at home, something to fill the gap between takeout and the relentless home cooking we all so badly need a break from!"
www.beancountercafe.com | Instagram @thebeancountercafe | Facebook
Parsons Brewing Co. | Sam + Chris Parsons, Owners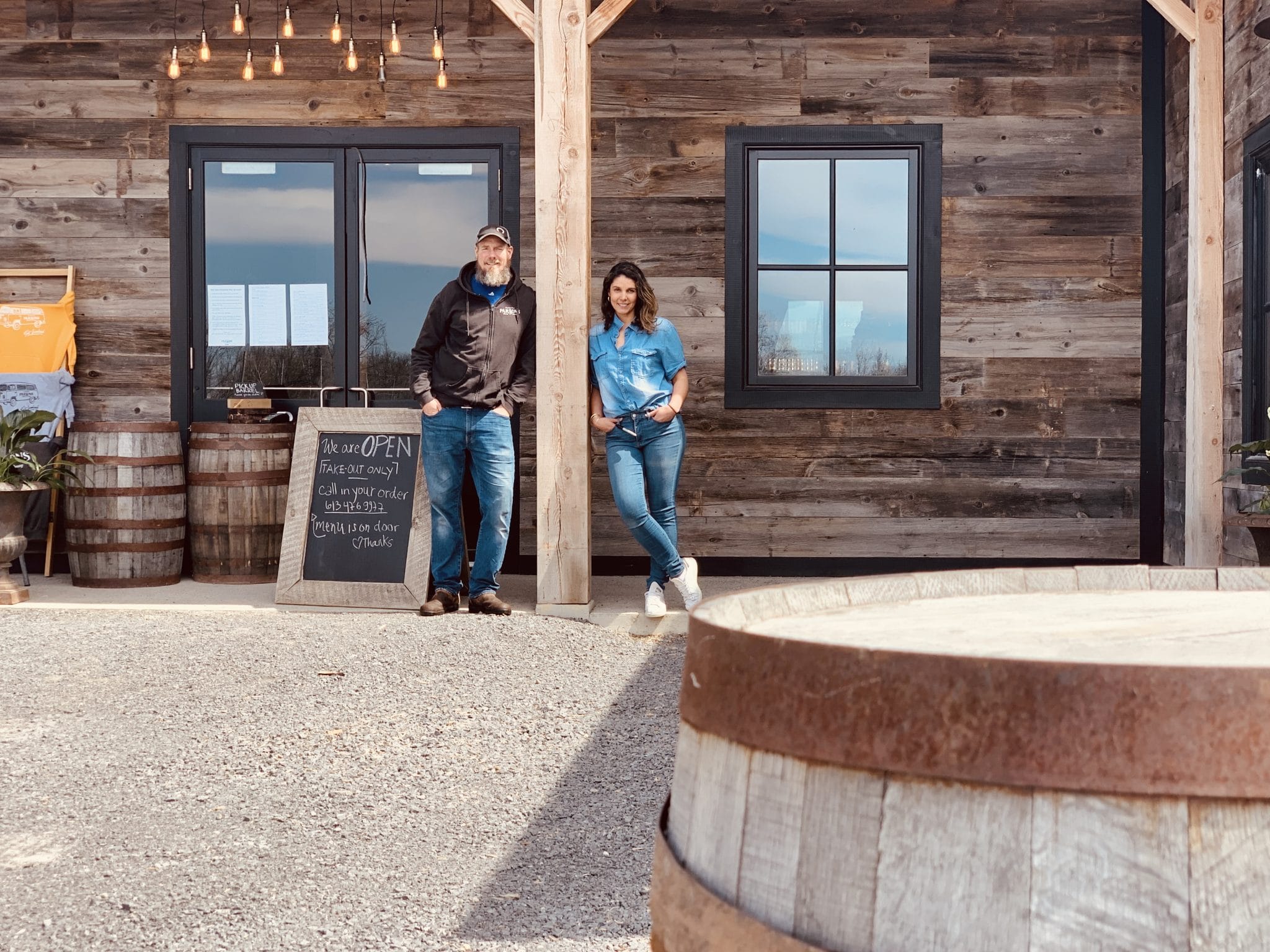 The open field and group harvest tables at Parson's created a communal space that was always a summer destination. With these areas closed off, Chris and Sam were nervous about how it would affect the business. "It is extremely difficult to re-invent a new business with so much uncertainty and limited cash flow or the ability to generate any."
The brewery was quick to recalibrate, offering touchless pick up and curbside delivery, both across The County and to larger cities. Not only did they reinvent their approach with the times, they also went out of their way to help smaller businesses, like The County Pasty Co and County Bounty Soda—operations working hard to meet small batch orders, but too small to manage deliveries alone. Parsons is one of those businesses that gets that a strong community means surviving together and they're stepping up to the plate with generosity and humility.
"We have learned that our team and our community continue to show up despite our brewery and experience looking a little different and for that we are humbled and extremely grateful."
www.parsonsbrewing.com  | Instagram @parsonsbrewing | Facebook
Maccool's Re-Use | Cindy MacCool, Owner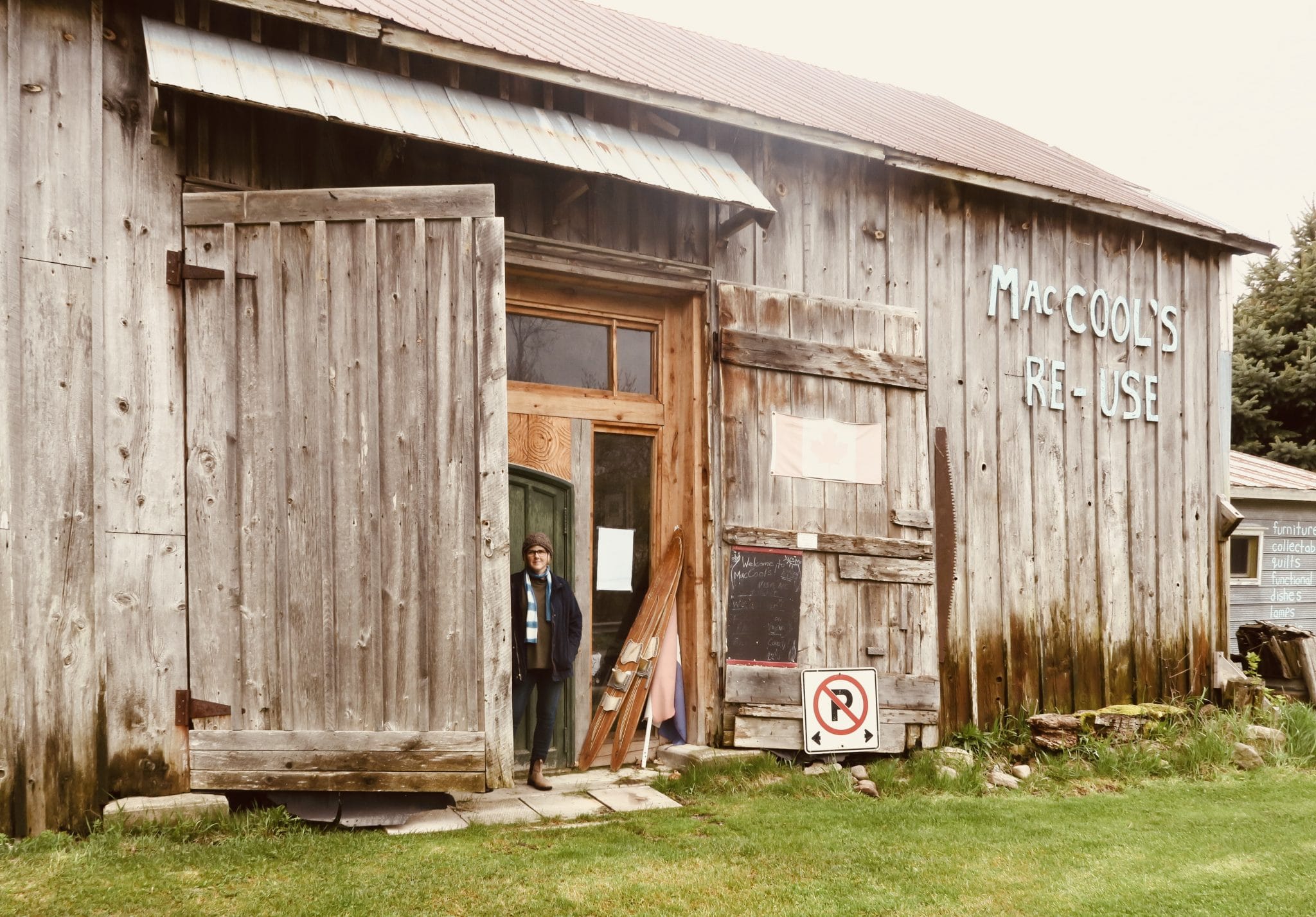 Many businesses were set to open this month and find themselves scrambling for a new approach. Cindy is posting items for sale on her Instagram and Facebook, but keeping some amazing items ready for her next season—some things just have to be seen in person. MacCool's will be in their twelfth season this year, but it's looking entirely different.
The shut down has affected how Cindy finds her products. Typically, she would be out picking four or five days a week, curating the amazing finds that MacCool's is known for.
While some avenues for revenue have slowed, others have picked up, "Fellow stores that I sell to are finding it hard to get stock at the moment with no auctions on and pickers not out buying—so I've received lots of inquiries from them."
www.maccoolsreuse.com | Instagram @maccoolsreuse | Facebook
From The Farm | Cynthia Peters, Owner & Chef
Cynthia is currently exploring ways to augment her business. Every day we are greeted with changes and new challenges and the next few months will look very different. She is looking to then identify the community's needs concerning their relationship with learning about food and how it is consumed so she can adapt her existing business model. Local famers and producers have demonstrated a great deal of passion in growing food for the community and it has inspired Cynthia to expand her kitchen garden and start her own seedlings.
Cynthia hopes to offer Private Classes by mid-June, and right now, you can find some incredible recipes of hers at the From The Farm website (and on LIFE AU LAIT!) By staying small and flexible, her business has been able to adapt.
"Most importantly, this crisis has reaffirmed to me once more, what a caring and passionate food and wine community we have here in the County—one that I'm proud to be a part of".
fromthefarm.ca  | Instagram @fromthefarmchef | Facebook 
Midtown | Elisha Andrewsky, Co-Owner
 Midtown Brewery has taken a thoughtful approach to takeaway, offering wood-fired pizzas and a clever burger box that could be cooked at home. Midtown is the local for the Welly crew, so a big part of community stability is the feeling that something important is up and running. "The support has been overwhelming. We've really tried to keep prices low and our doors 'open'." And the process is uncomplicated. There's an order window facing out towards the patio: you pull up, order from afar (the menu's on the wall), get back into your car until Elisha waves at you from the window, tap your card, grab your yummy food, and go.
"I'd say the biggest hurdle is the unknown. We've spent years building this business in The County, finally feeling like we have a grasp on what each season has in store—now it's a whole new game. We're starting at almost square one. This time the risk isn't simply financial, it's the health of our family, our friends, our employees, and our community." 
Find out about their specials and what's available at the take out window:
midtownbrewingcompany.com  | Instagram @midtownbrewingcompany | Facebook 
Waupoos Island Sheep | Liz Johnston & Matthew Fleguel, Owners
During the shutdown, shepherds Liz and Matt have taken time to work towards contributing to the food security of PEC. They plan to work with local abattoirs and retail, working together to support other vital industries in The County. They recognize how wonderful and unique this area is, where people "genuinely want to look out for one another." 
"We are seeing so much support for local businesses in their time of need, it is incredibly heartwarming."
Add your name to their mailing list to be notified in the fall when their grass fed lamb will be available for purchase: [email protected]
Website | Instagram @waupoossheep
***
These are a handful of incredible business owners pivoting for survival in a community saturated in entrepreneurial talent. As the Covid-19 effects continue to unfold, it feels like this collab project will have to expand to capture some of our other awesome figures in Isolation Portraits: Part II.