It was pouring cats and dogs outside—but the five of us were cozied up together at the kitchen table in the Babylon House, a modern-rustic white cedar log cabin that's one of
the too-pretty-to-deal options at Angeline's Inn in Bloomfield. We sipped our hot coffee, fell into instant talk about meaningful County things, while dipping into the beautiful spread of goodies laid out before us. As usual, everyone had contributed to the meal in their own way and we enjoyed the fruits of our labour together.
I'd gathered a handful of my County Ladies for this meet up: Enid, Sam, and Luhana—a few of the culinary power women from Prince Edward County—to celebrate our love of this community, our drive to create positive practices in our work, and the mutual adoration of our talented and inspiring friend, Kate Golding. As part of a cool collab with Diana Olsen, founder of Balzac's Coffee Roasters, Kate had just created the design for "The Biggins Collection" a grouping of the most beautiful coffee and kitchen paraphernalia, just launched in Balzac's locations across Ontario. She brought over a bunch of pieces from the collection for us to enjoy our coffee from and prop our pretty spread in and around.
Meeting Kate
When I hit the County in 2017, it didn't take very long for power couple, Kate Golding and Johnny Lam to land on my radar.
The unofficial County photographer, Johnny was everywhere, capturing all the great goings on of our people with his keen eye for the great moment. And then there was lovely Kate with sparkling joy-filled eyes and jaw-dropping talent, her design-work represented in magnificent wallpaper, 'country life' motifs gracing feature walls in bnbs, inns, and homes across the County, declaring her massive ability far more loudly than she ever would.
I started dreaming about my own Kate Golding wall, but how could I possibly choose between the Wellington Water Tower and the Prince Edward Geese…or any of the other dreamy Countyscapes? Then when the designs translated into a beautiful series of kitchen linens, everything seemed right with the world—I could bring them all home and wait for the wall to choose me.
Kate & Diana
Then about a month ago I spotted something new—a photo on one of my social newsfeeds of the prettiest delivery van I ever saw. It was covered in what I internally described as a "botanical-café" pattern and I immediately wanted to drive around town in its adorableness all day long. It was Balzac's new coffee delivery vehicle and it was totally stunning and signature 'Kate.' I knew there was a good collaboration brewing there so I reached out.
"For years I have admired Kate's surface pattern creations from afar," Balzac's President and Founder Diana Olsen told me. Diana took the plunge into coffee, launching a coffee stand at Ontario Place in Toronto in 1993 that grew over the next 25 years into fifteen thriving locations across the province. "Canada has an incredible community of support surrounding women-led coffee businesses," she says "and I'm proud to be co-pioneering within the industry among other women-run Canadian coffee brands, like Kicking Horse Coffee and Bridgehead."
And Diana is a little bit County too. Her grandmother was born in Wellington, her mother in Consecon and she still has family in Bloomfield. "I reached out to Kate on a whim," explains Diana, who describes resonating with Kate's water tower pattern and installing it in her home, "asking her if she would be interested in designing a custom wallpaper for Balzac's Powerhouse Café location." So the collaboration between the two that began in 2017 with cafe wall design, delivery vans, and packaging has extended to these lovely big and small sized coffee mugs we were drinking from, the so very pretty dish towels, trinket trays (we used them for little cubes of cake that Enid brought) and the coasters we infused into our table setting for our pretty ladies' log cabin bruncheon. "My mind went to the joyous place of creativity and ideas…" Kate described her process to us. "I dance back and forth between thinking about specific motifs and then visualizing patterns spanning the walls of the cafe. Often when starting designs, I literally imagine them on a wall even before the pattern has manifested!"
"So when did coffee first have meaning for you?" I ask and Diana explains, "My passion for coffee began when I was 14. My first paying job was at an Italian restaurant in Vancouver and one of my responsibilities was operating the espresso machine. That's where it all started. A few years later I found myself moving halfway across the world to Paris where I studied French literature and worked as an au pair. I was inspired by Paris' old-world café cultures, the 19th-century French novelist and playwright Honoré de Balzac and his genuine passion for excellent coffee. I was determined to bring this sophisticated celebration of coffee and social tradition home to Canada."
Kate's answer resonated just as powerfully. "Growing up in England I never really drank coffee for the first half of my life, I was always a tea drinker—good strong "builders' tea" and a lot of it! It was my years working in advertising in Toronto that truly established me as a coffee lover and maybe addict. Long days at the office and late nights with clients meant that the first and most important need of the day was a cup of coffee…followed very shortly after by another one."
The County Ladies
We sat together in the carefully styled 1950s era kitchen, another of County hotelier Alex Fida's triumphant interior designs. His eye for style was impeccable here, as in all of his accommodations, several of which boasted feature walls decked out in Kate's awesome wallpaper. Diana couldn't join our party at the last minute when duty called at the office, but Kate told us how awesome she was and how great it was to collaborate together. "It was a lovely process as she truly wanted me to have the freedom to create something which represented the Balzac's culture… Diana is a visionary and it is very important for her and the team to keep the cafes and the brand fresh and current," she adds, "I feel joy that my wallpaper is now a part of that visual identity." I looked around the table at Kate, Enid, Sam and Luhana and felt a thrill at the possibilities that could come out of this gathering of women if we put our minds to a project.
Instead, we talked about our community, we talked about sustainable practices, we talked about what was meaningful to us in our work and our lives. We ate beautiful food and drank delicious coffee and toasted our lovely Kate and her beautiful work out of mugs that were adorned with her aptitude for creating beauty.
Women Thinking Local & Long Term
Diana: Hosting Diversity & Supporting Local Initiatives in Our Communities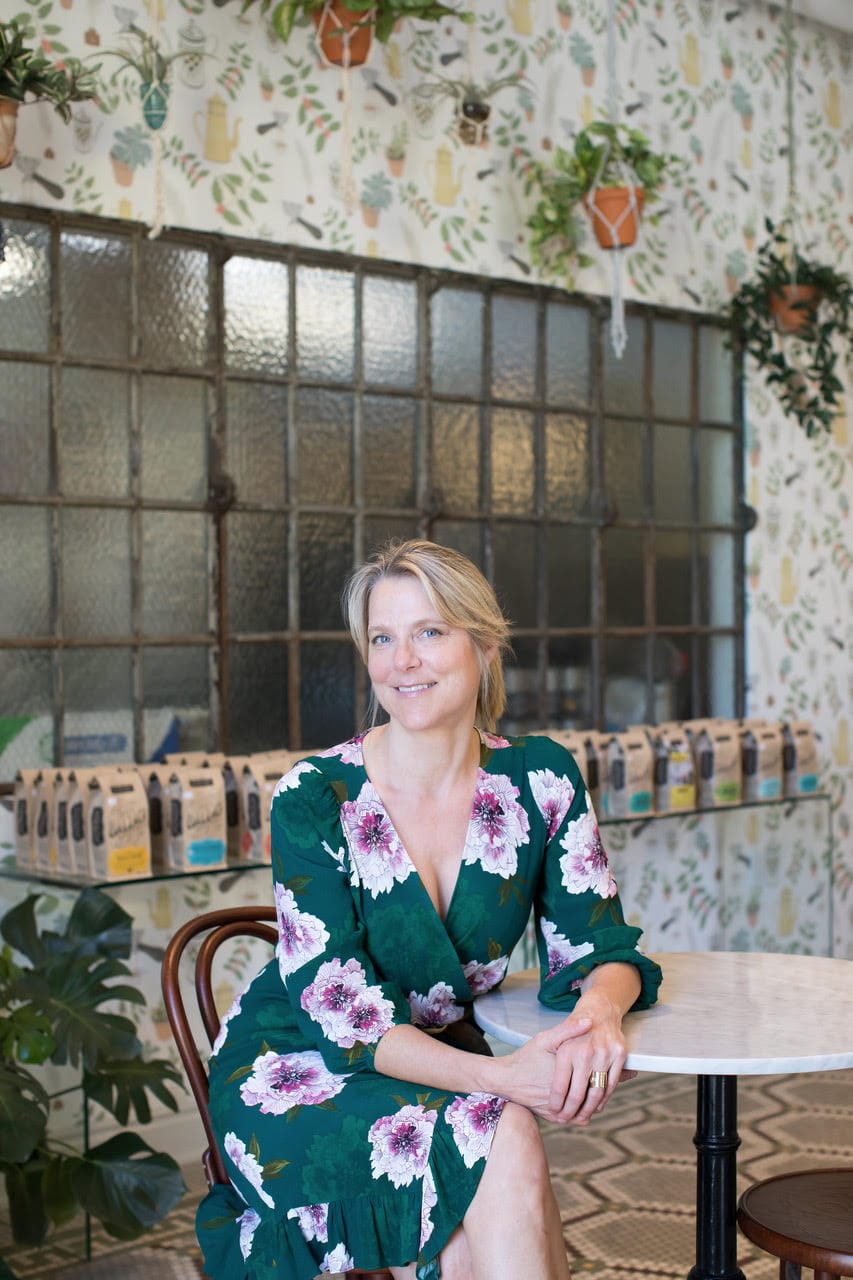 "To me, local means a couple of different things. For the cafes it is an opportunity to enhance, support and collaborate with the amazing people in the communities we serve. If we are doing our job right, the café becomes part of the fabric of that community. Local also means sourcing locally grown or produced products. Working closely with partners that share our values is so important to us. We also support local initiatives that are meaningful to us; such as our Atwood Blend which supports the Pelee Island Bird Observatory (PIBO) in collaboration with Canadian Author Margaret Atwood.
Inspired by Honoré de Balzac's famous quote, 'the café is the people's parliament,' Balzac's mission statement was born. We want our cafes to have a real sense of belonging and time well spent. We intentionally design and create our spaces so that they don't just appeal to one demographic. The inspiration for this is drawn from the feeling of inclusiveness that Parisian cafés have for a lonely traveller to sit down and feel a part of something—a feeling that I'm lucky enough to have experienced first-hand.
It's important to me that each cafe is uniquely designed with its community in mind. I approach every space and neighbourhood with the intent to pay homage to them—I love to research my future audiences! Every Balzac's cafe artfully reflects each community's uniqueness in its design aesthetic and our poster reveals are such an important part of this. We pride ourselves on being a central gathering place for the diverse people we serve to come together and celebrate coffee, and I hope that this unique experience is what keeps our communities coming back for more. There's nothing I love more than the feeling of connecting with our customers!" – Diana Olsen, Balzac's Coffee Roasters
Samantha: Making decisions today that influence our planet & our community in the future
"Sustainability is entrenched in our values. Keeping in mind that the business decisions we make today will influence our planet and our community in the future, we are committed to our natural and social environment. Proudly BrewOn certified, our beers are made with hops sourced here in Ontario. We source local ingredients wherever possible. We do this because we believe local ingredients matter, not only because they make delicious beer, but also to support our local farmers and growers.
Gaining inspiration from the rich heritage of the county, we repurposed three buildings for our Bottle Shop, Brewery and Taproom. We consciously adopted German 'Passiv Haus' building techniques, considered the most rigorous standard for energy efficiency in a building. The ultimate goal is to reduce our ecological footprint, while sustaining the beauty of our natural environment and local architectural traditions.
Our team planted 3,150 saplings on our property and we are thrilled to watch them grow year after year, knowing that they will eventually become a little forest. It is a great pleasure to know that we can brew fresh beer today and continue to contribute to our environment in the future. Get Involved!" – Samantha Parsons, Parsons' Brewing Co.
Enid: Feeding our community with a philosophy of fresh food & limited waste
Limited food waste is a huge priority for the cafe. I utilize a very specific model to ensure that all the food is prepared fresh each day and all is consumed before the end of day. Making sure the food is consistently delicious and in a quantity that is easily consumable(yet still satiating) helps limit the amount of food left on plates and in turn thrown away. I strive to sell out of everything each day. All food is consumed fresh, at its best with no excessive food inventory being stored; taking up space and energy.
I consider my cafe a community space, a gathering space for everyone to enjoy in their own way. Many details are thought out to make the space inviting for all. The cafe is eagerly supportive of many community events, organizations and fundraising; all are a very important part of my business. Feeling embedded into the day-to-day life of the County. and specifically my village here in Wellington, makes the cafe feel more joyful; knowing customers names and events happening in their lives and helping wherever possible." – Enid Grace, Enid Grace Culinary
Luhana: Teaching about the origins of food & mindfulness about consumption
"The most meaningful sustainable practice in how we run our business is centered around teaching people where their food comes from; growing and using local ingredients to come up with a wholesome, healthy and sustainable cuisine. You don't need much to make an impact! Through our services we aim to inject mindfulness about what products people consume and how they can make better choices. The County is a very supportive community who share a huge passion for food and wine & the bounty of this land." – Luhana Littlejohn, Littlejohn Farm
Shop Kate & Diana's gorgeous "Biggins Collection" here.