It rivals CBD for combating inflammation, has a nutritional profile that makes kale look like a part-timer, and transitions from beauty products and teas to culinary dishes and cocktail syrups. So we asked our talented friend Natalie Fader, nutritional therapist and wellness expert to dig deep and tell us about the local weed called 'purslane'.
Purslane, formally 'portulaca oleracea' is also known as little hogweed, duckweed and pursley. And because it grows in an extremely diverse geography it has many more names in various languages within regions that have recognized the nutritious value of the plant throughout history. Purslane is found everywhere from North Africa to Southern Europe to the Middle East to Asia to Australasia and is recorded as having been eaten and planted by indigenous peoples across pre-colonial North America.
So there's a plant that is pretty close to being a perfect nutritional supplement — which is a bold statement to make as a nutrition professional. By perfection I mean something that's easy to incorporate, easy on my budget, accessible, nutrition dense, happy on the taste buds while also serving up multiple healing potentials. 
That's a big ask from one source, yet I'd somehow never come across this little gem before. The more I explored, I recognized that purslane offers a complete nutritional boost for not only our nutritional health and mental well-being, but also our skin health as well. And right now, with the havoc that this Covid-19 era has wreaked on our minds and bodies, that's the kind of boost I'm looking for. 
"Purslane grows wild in Prince Edward County and has numerous health benefits…"
As it grows, purslane is a pretty looking succulent. It's a green, leafy vegetable that can be consumed raw or cooked or added into teas, smoothies and other drinks in its dried herb or powdered extract form. 
It actually grows in many parts of the world, in a wide range of environments and is recognized in many of these places as a hearty weed with numerous benefits. And while we can grow it here in Canada and watch it come back each summer as a beautiful ground cover and lovely cultivated addition to any garden—it's purslane's health benefits that are its most captivating asset and yet there wasn't a lot of talk about it, so I was intrigued to learn more.
Why is it so nutritious?
I was pleasantly shocked at the nutrient profile purslane boasts—from its minerals and vitamins to its anti-aging, anti-inflammatory and antioxidant properties and high levels of omega 3 fatty acids (a big player in mental health but we'll get to that in a moment!) I decided to reach out to county residents who know purslane well and have incorporated it into not only their lives, but their businesses too.
Carol Dickinson, founder of County Apothecary, is perhaps the biggest champion for purslane. She has created a full line of skin care and nutritional supplements in the form of dried and powdered formulas all using purslane as the star ingredient. She was quick to share everything she knew and had experienced with the plant and why the passion project soon turned into a small business. As soon as people learned and understood about the plant, she told us, the more interested they were to try it. "Purslane has been cultivated for over 4000 years, used both medicinally and nutritionally," Carol shares. "Although it is a common ingredient for dishes in some parts of the world, it seems to be relatively unknown here in Canada." 
I asked Carol what she considers the most unknown about the plant other than its already impressive list of benefits and she explained that it's the Omega-3s. "It contains more omega 3-fatty acids than any other vegetable and many fish!" As a nutritional professional, that totally captured my attention.
ENTER HERE TO WIN A PURSLANE ESSENTIALS TRIO COLLECTION FROM COUNTY APOTHECARY

Let's Talk Omega-3s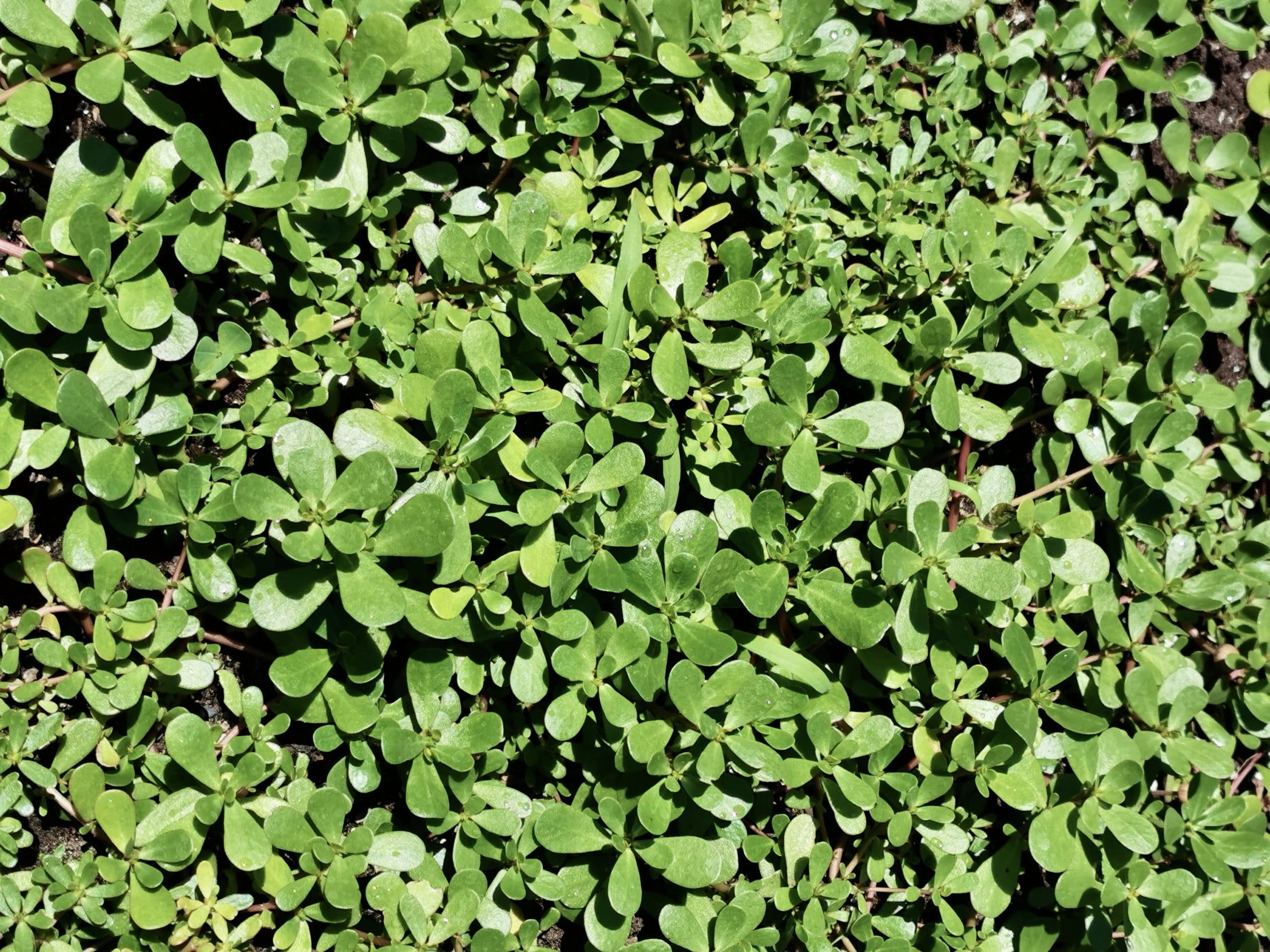 Omega-3 fatty acids are a big deal in my world. Most of us don't get enough and purslane was a source most of us don't even know about. This means including omega-3s in our diet just became more accessible.
We regard these potent anti-inflammatory properties as an important protective shield against acute and chronic inflammatory conditions (whilst strengthening and maintaining balance to our mental well-being, memory, and communications to the rest of our body systems). Generally, us westerners tend to have an imbalance of essential fatty acids Omega-3 and Omega-6. 
Essential to balance our body systems, it's critical that we include them in our diet because our body can't synthesize them. Unfortunately, omega-6 shows up in our body in much higher quantities than we need thanks to our higher consumption of packaged foods and red meat (beef fat, egg yolk, plant oils such as canola, corn, peanut, sesame, soy, are strong sources). While the ratio of omega-6 to omega-3 should be around 4:1, we currently consume 10-20 times more omega-6 than omega-3 causing an imbalance in our body. Problems arise overtime when we keep this imbalance going, which is why it's so important that we focus on lowering our omega-6 consumption and increasing our omega-3 to meet that 4:1 ratio.
And while I'm not here to talk about math, I do want to address why that's so relevant. This fatty acid imbalance has an inflammatory side effect that's linked to diabetes, heart disease, and chronic inflammation. Since diet can be modified, incorporating a strong source of Omega-3s like purslane felt like a no-brainer—especially if you're like me and don't eat a lot of fish or flax. I drink smoothies and teas almost everyday, which is what made this easy to incorporate. And since purslane is also a source of so many other nutrients, I found it was really the only supplement I needed making the transition simple and cost effective. 
The Skincare Story
I spent 10 days using the skin care line over at County Apothecary so I could experience the topical use of purslane. I also included the dried extract powder (daily radiance which had a pleasant, mild and almost nutty flavour) in my almond milk based smoothies and the dried purslane herb in my teas. When I compared the cost of these products to other brands using equally impressive nutrient dense ingredients, I found County Apothecary delivered an equally powerful punch for a fraction of the cost and was a local PEC business—another no-brainer. 
Not only were the dried and powdered forms easy to include in my recipes and drinks, Carol's website and blog were a great source of information on the multiple uses of the products. As for the skincare line, the best way I could describe it was that my face looked like it finally took a well deserved drink—hydrated and plumper—I skipped make-up most days because the richness of the moisturizer (with an almost mousse like texture) absorbed into my skin, holding the hydration for most of the day. 
The Snip Family Farm | Purslane Grower
One local County farm is growing purslane and selling it at their farm stall. Despite the fact that it's unfamiliar to most people, they scooped up the farm's first crop. "Purslane is just one of many exciting things we have on offer seasonally—our first crop sold out, but we have more planted, hoping for a fall harvest," owner Robin Snip told me. "We had never heard of purslane and my husband came across it in a seed catalogue and was immediately interested. The description made it sound fresh and crisp and delicious. Every year we try to grow things that we've never tried before, it keeps things interesting and we often discover new vegetables to love." 
So why is purslane so hush hush? Outside of North America, it's not. In Mexico they call the weed Verdolagas and it's traditionally been eaten both raw and cooked for centuries, lauding the many health benefits. I knew who I needed to call for a good recipe.
VISIT THE SNIP FAMILY FARM VIRTUAL STALL FOR PURSLANE GROWING TIPS!
La Condesa | Culinary Applications
I talked to Chef Sam Valdivia, Owner of La Condesa Restaurant in Wellington about using Verdolagas in Mexican cuisine. She told me "our parents used to make us eat it when we were kids because of how nutritious it is. It's similar to kale or spinach in how you prepare it and add it to dishes. It's funny because it tastes very good and complements many dishes." I learned that in Mexico they would soak it in water and salt, which cleans out and prepares the plant for cooking. The soaking also helps in the digestion of the plant (bonus points from a nutritional perspective, because once something becomes more digestible we can absorb more of its nutrients). Sam shared a delicious recipe for us all to try—Savoury Verdolagas Pancakes served with an easy tomato sauce. A delicious addition to any meal (I enjoyed mine with a garden salad, rice and bbq chicken skewers).
GET CHEF SAM VALDIVIA'S RECIPE FOR "VERDOLAGAS" OR PURSLANE PANCAKES IN THE LA CONDESA MARKET STALL, HERE!

Why is Purslane Important Right Now?
When I thought more about it, I realized what I liked most about purslane was its simplicity of use along with huge healing potential in a time I think we all need it the most. This pandemic has left me exhausted, my mental load is at capacity, yet I still want to take care of myself. 
I'm not alone. The current climate has left many of us feeling burnt out, stressed and experiencing longer episodes of anxiety and depression. When I discuss with my clients how we address those things, we often recognize that while we can't change the stressers, we can instead learn to offset their impact. This is where we make plans to move our bodies more, get fresh air and enjoy nature, create healthy boundaries, get support and practice behavioural techniques. 
Tweaking our diet and including the right supplements is what helps strengthen not only our body systems, but also our mental health so that we can continue the momentum toward managing our lives. 
While most of us are experiencing the negative effects of inflammation due to stress, poor diet and sleep practices and lack of boundaries with technology—I was shocked to find that the availability, economical value and massive benefits of purslane hadn't catapulted it into the public eye as a powerful supplement.
Natural ingredients matter to me, and yes as the mother of two school-age children approaching her 40s, anti-aging properties and ingredients that nourish my skin cells externally are equally important to what I put into my body. I want to look and feel good again. Yet brighter days are ahead. The warmth of sunny summer nights, and delicious options at our fingertips, our moods are lifting and now I'm adding a little purslane to the mix. 
As I continue to explore my home and community, I'm excited to see that what superficially seems like a common weed, growing in our gardens could be such a powerful tool to turning our health around. The County is offering up so many discoveries amidst its bounty and talent and I can't wait to learn about more pieces of this health puzzle and how it can support the health of our community. 
In the meantime, I encourage you to visit our local purveyors of purslane, explore their different products and recipes and get acquainted with this multi-dimensional plant as you welcome its many benefits into your life.