Well it looks like winter isn't quite ready to let go—but we sure are. If Maple in the County is anything to go by, the County locals are ready to come out into the light and reconnect with our people—and our city friends (who've also had an intense cold season) are embracing the perfect excuse to explore PEC and check out a bunch of her great restaurants in our spring celebration of all things food: Countylicious.
This season, Countylicious runs from April 5th to the 28th and includes 13 of Prince Edward County's favourite eateries featuring prix-fixe concept menus that celebrate both the kind of fare each restaurant is known for and also a culinary philosophy that's really important to us here in The County: farm-to-table.
Fresh, local ingredients are sourced from local suppliers—from foraged mushrooms to fresh-grown squash to our locally tapped and bottled maple syrup. The result is something that's pure deliciousness and powerfully evokes the sense of place that's ever present in our beautiful home.
Check out some Countylicious highlights from a few of the County's great chefs and restaurateurs!
The Marans Dinebar, Chef Guerin Sykes
The Approach "We are showcasing our restaurant's mantra, 'globally-inspired county cuisine'. We want to introduce new and interesting flavours to the PEC community and use local suppliers to do it."
The Local Goods "We love Jubilee Forest Farms for their grass-fed and grass-finished beef. They have happy cows because they have an ethical approach to animal farming. Also, Cloven Farms' micro greens and black garlic—Nigel is always trying new things."
Farm-to-Dish "Try the Spiced Jubilee Beef and Onion Braise. Given the time of year and the volume of the product, we created a dish that is adaptable to using multiple cuts of beef, thereby saving the prime cuts for retail for the farmer to maximize profit."
Pair it With This "Our wine list is exclusively Prince Edward County wine. We are also proud to offer a fantastic cocktail menu showcasing Kinsip House of Fine Spirits."
Countylicious Crush "Jackson's Falls and Bloomfield Public House."
Flame + Smith, Chef Hidde Zomer
The Menu "Our aim is to give our Countylicious guests the same service and quality of food that we would normally offer at our restaurant."
Farm-to-Plate "We use the beautiful, organic grown mushrooms from Kelly's Gourmet Mushrooms on Wolfe Island. They are exceptional growers and we are excited to see new varieties come available soon. Our pork and maple syrup are from the award-winning Tamarack Farm. They have an amazing program of organic produce, livestock—sheep, pigs and ducks and the sugar shack should be in full swing."
Try This Dish "For the mushroom salad we use king brown, lion's mane, blue oyster, and shiitake mushrooms. We love to roast them in our wood-burning oven until golden brown and delicious—such a simple and great dish."
Shout Out "So many great choices! I was excited to read Hartleys Tavern's menu."
The County Canteen, Owner Natalie Wollenberg
The Concept "'A Taste of Bavarian'. Our family connection to Germany and a love of German food shared by our family and our Chef, Sean Crooks, were really the motivating factors for this theme."
The Local Goods "With our Countylicious menu (as well as our regular menu), we call on the fine folks from Walts Sugar Shack to supply us with some of the finest meats in the County. Brian and Jane, not only produce amazing maple syrup, but they raise cattle and pigs fed from the spent grain from local breweries."
Try This Dish "All of the proteins we get from Walts are used in our locally sourced and made bratwurst sausages, pork schnitzel, and the stewing beef used in our Beer & Beef Goulash. We're also pairing each of our dishes with local wines and breweries here in PEC."
Share The Love "We always take the opportunity to visit as many other venues as we can during Countylicious. I'm really excited for the Public House at Jackson's Falls menu, specifically the Milford Chowder. Hartleys Tavern has a delicious menu with the stand out being the Braised Oxtail Fettuccini and Portabella is offering a gorgeous Salmon dish. I don't think there is any wrong answer with the restaurants participating in Countylicious this Spring!"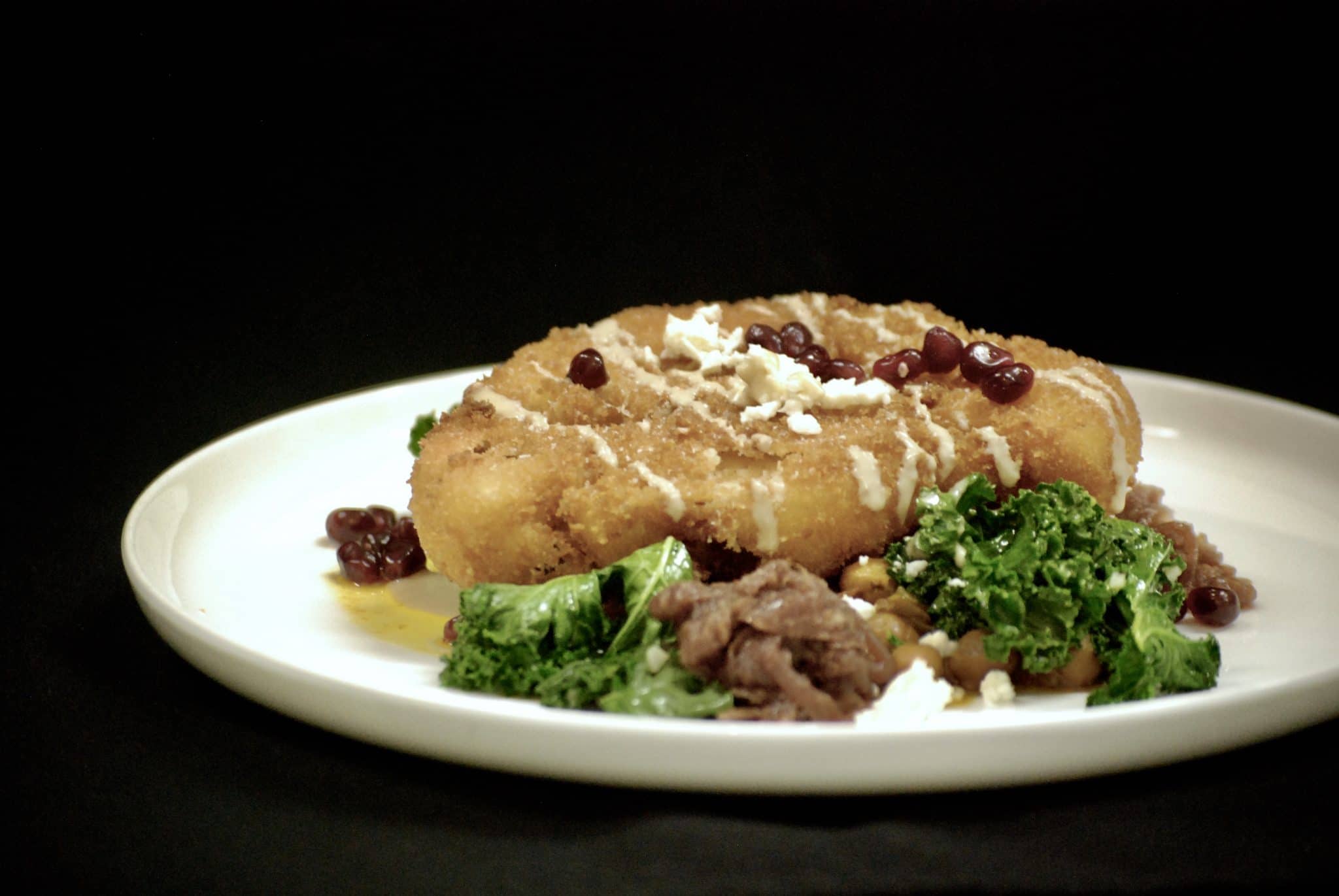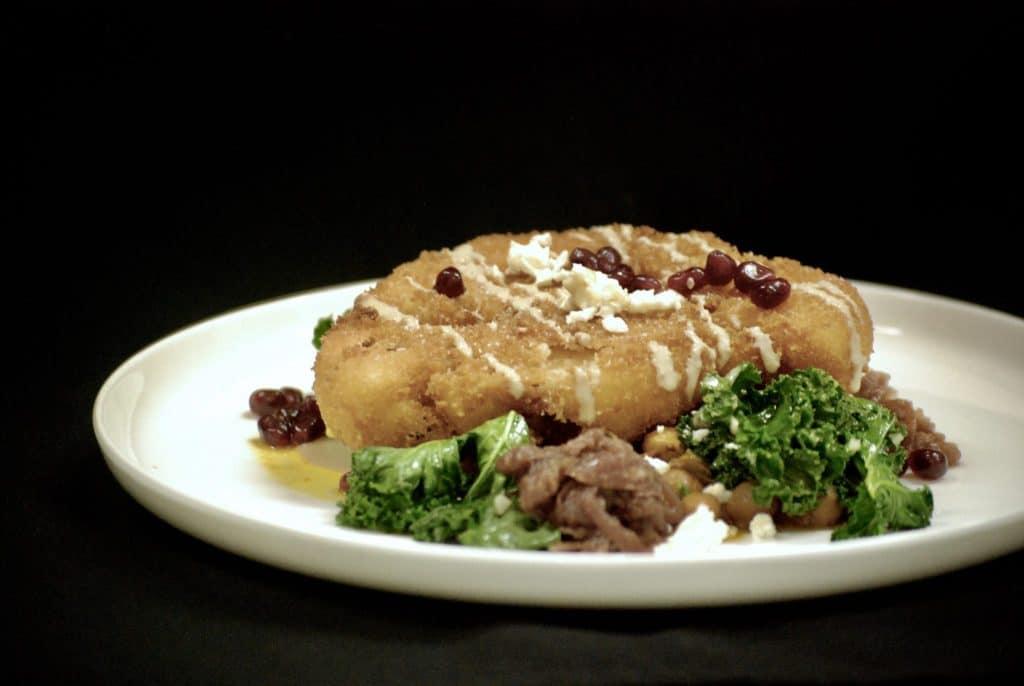 Hartleys Tavern, Owner Jim Hartley
The Menu "Our 'Licious menu is the same as it is for our regular menu all year: great food—bread, sauces, chutneys, desserts—made in-house from scratch using as many local ingredients as we can."
The Local Goods "Jared, our son, is our Chef and he has been eating locally created and inspired food all his life, so it's natural for him to continue doing so now that he is the one creating with those same local ingredients. This season we will be using local potatoes and maple syrup from Ed Taylor at Honey Wagon Farms. He is very in tune with the needs of the local chefs—he delivers himself and the quality of the product is top notch. We also use the micro-greens from Nigel at Cloven Farms, mustard from Sarah at Cressy Mustard, rabbit from 50 Shades in Sterling, and Byford Farms beef."
Try This Dish "The Rabbit Liver Mousse is made in-house from liver from 50 Shades rabbit farm. Served with Cressy Mustard and our homemade bread."
The Family Vote "We all looked at the other menus and all seem to want to try out Jackson's Falls menu—yum!"
The Drake Devonshire, Chef Alexandra Feswick
The Concept "At The Drake we are so excited to Countylicious every fall + spring season! It's a great opportunity for us to meet locals in the community as well as to share some of the amazing local offerings here in The County to our out of town guests. Top of mind every year is working with our local suppliers to feature the very best and what's local in our area. Our concept and theme is fresh, local—and getting our guests excited for the spring/summer bounty to come!"
The Local Goods "We do our best to showcase all of the amazing products made here in The County and some of our favourite suppliers are on the Countylicious Menu at The Drake Devonshire this spring. We love Lighthall cheese, Prinzen Chicken, Campbell's apples, Honeywagon potatoes, Cloven Farm's mushrooms…to name a few."
Try This Dish "Ed Taylor at Honeywagon Farms has amazing squash throughout the winter and we have an entire dish dedicated to this incredible County treat. When you source great ingredients, the plate speaks for itself. You can taste the quality, the complexity of the vegetable and the passion that goes into its production from the moment it's seeded until it hits your plate."
County Spirit "I would love to try what Waupoos Winery is offering—I also hope to make it out to Jackson's Falls, Bloomfield Public House + Flame & Smith…but what am I saying? They're all going to be great!"
Jackson's Falls Public House, Owner Lee Lewis
The Menu "Our concept is to always work with local farms and growers to give a true representation of county food. We always use local when we can and, by bringing in county food from last seasons harvest, we strive to celebrate the incoming harvest with memories from last season."
The Local Goods "I'm happy that we will be able to feature Vicki's Veggies on our menu with foods she produced last season and excited that she will be growing again! Sarah's Cressy Mustard is the bomb and always on our menu, we love Lighthall cheeses and wines, we serve Slickers' ice cream and we also stocked up last season on County Catch. We also celebrate our own homemade brioche by Chef Paul Senecal—who is also the Monday oyster shucker at Waupoos Market in summer season and our forager extraordinaire!"
Try This Dish "Paul's braised pork belly is paired with Cressy Mustard and his own 'kraut—a reflection of his Latvian family roots. It's important to showcase our cultures through our foods and Paul has free range to express his on every plate this 'Licious."
'Licious Love "I want to eat at every 'Licious restaurant and will definitely be making a trip to them all! Everyone puts a lot of effort into these menus and it is a great beginning to the season—can't wait!"
Bloomfield Public House, Chef Elliot Reynolds
The Approach "For Spring Countylicious we will be celebrating spring—light flavours and early season products we can showcase on our menu."
The Local Goods "We will be using as many PEC available products as possible, showcasing Vader Farms lamb—a county staple for years. We buy the whole animal weekly, will do various preparations with it throughout Countylicious. Nothing is growing here yet. We wont see asparagus until May or wild leeks until mid or end of April if we are lucky, so for us to have access to PEC lamb is very rewarding and a beautiful way to celebrate early spring."
Try This Dish "One of our small plate dishes is of our in-house smoked ham. We get this ham from Hanover Farms in Marysville—an organic pork farm, raising fantastic heritage breed pigs. We typically receive a whole pig once or twice a week, depending on our volume. We use certain cuts for our smoked ham, which is wet brined for five days and smoked either on maple, alder, cherry, or oak, all sourced from PEC. We hot smoke the brined ham for 5-6 hours in our stone smokehouse until cooked, cool down and slice paper thin. We are lucky enough to have access to some awesome local cheese (sheeps milk manchego from Lighthall) and it goes on the dish as well, finished with brown butter and chives."
Neighbour Crush "We are pretty big supporters of 'all things Bloomfield', so it's always nice to support our neighbours, Agrarian and Flame + Smith."
Other participating Countylicious restaurants include Agrarian, Amelia's Garden at the Waring House, East and Main Bistro, Pomodoro and Waupoos Estates Winery. Enjoy!
Co-published with our friends at The County.