Let's get down to it—why would PEC peeps want a staycation? Well, you already know why. The County is a really tourism-focused community, so we're either dreaming up all the ways we can show our guests a good time or finding new ways to totally avoid the hustle and bustle for about half of the year. Straight up, let's face it—until the whole of PEC is covered in ice, we often don't get much chance to enjoy it ourselves.
Cue the Good News: We got together with our friends at The June Motel to jam up some great ways for our local friends + neighbours to take a break and unwind in the comfort of our own beautiful County…and we came up with two super-amazing things:
1. The Big Un-Getaway
—a May-Staycation that will give locals the chance to 'let loose or lie in' with an awesome discount to stay at The June PLUS insider touring tips from us at LIFE AU LAIT.
2. The Big Prize
—your chance to win a one-night stay at The June in May (Contest closed)!
The June…
You might remember our on delicious staycation at The June Motel a few weeks back and if you were following along, you probably spotted that we were basically in heaven the whole time. Between the gorge spaces to just hang out and laugh over much wine and the freedom that you only really get on holiday to come and go as we wanted—it was the best. The room was gorgeous—a combo of mid-century décor with bohemian accents (it reminded us of Singapore) and a private balcony with sunset views of Picton Bay—we were totally stunned at how you can see the gorgeousness of PEC from a million different angles and still be choked every. single. time.
One thing I really dug was the way the motel had integrated concierge text communiqué. From check-in and check-out to ordering breakfast and taxis—I didn't have to speak to a single human and (while the humans at the June are super nice) let's be honest: sometimes unwinding means texting in your breakfast-in-bed order (ours was an ironically perfect 'parfait', chia-seed pudding with grated coconut/dark choc, paleo cookies with cranberry, energy bites for driving around the County, plus a huge carafe of fresh-pressed juice to recover from our "touring" the night before.) Tip: Don't. Skip. Breakfast. 
The Local Tour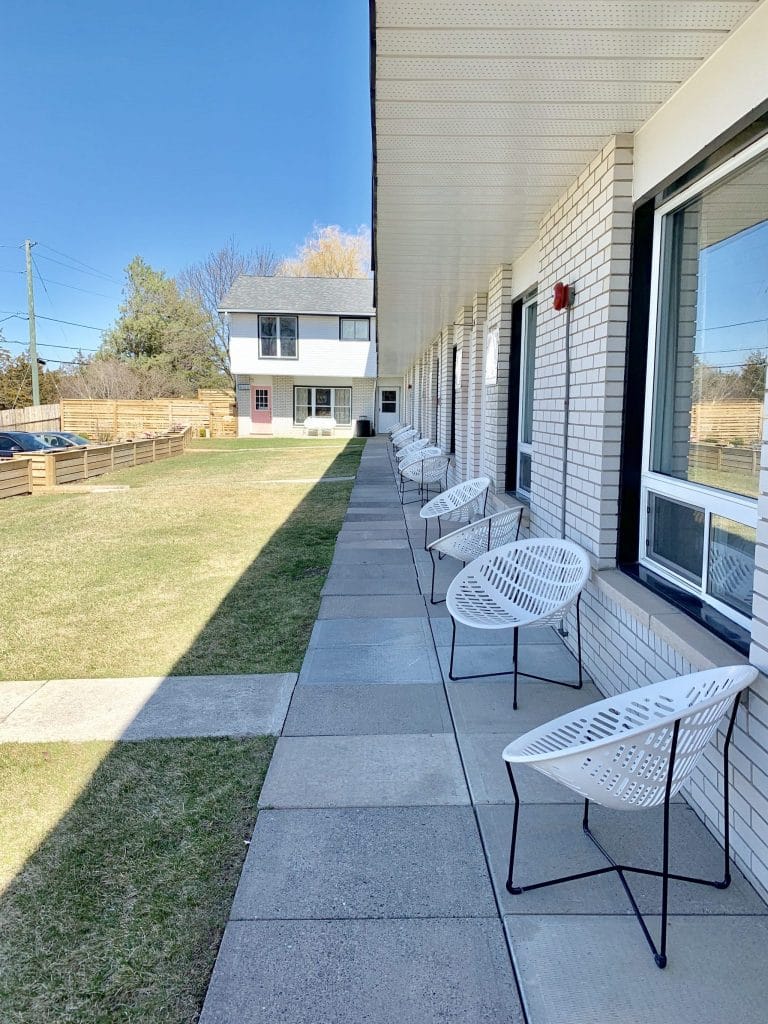 At first, we thought we should put together a staycation tour that included off-the-beaten-path secret spots that our visitors don't get to frequent…but we all already do those things and publishing them would really get me into trouble. So I figured, why don't we rather do a solid selection of the awesome PEC tour schtick that we barely notice because it's always here, in our own back yard? Here's an inside look at some of the really cool stuff to do in our County.
Explore A New 'Hood
I've talked about this recently, but I figured, the new "Upper Wellington" stretch on Wilson Road, aka. Carson's Garden Market, Flossies Sandwich Parlour, Gillingham Brewery, Domaine Darius—would be a great day trip. Basically, it's just opening in May, so  there's some gorgeous new action to check out, a lot of fun and diverse options and condensed driving requirements!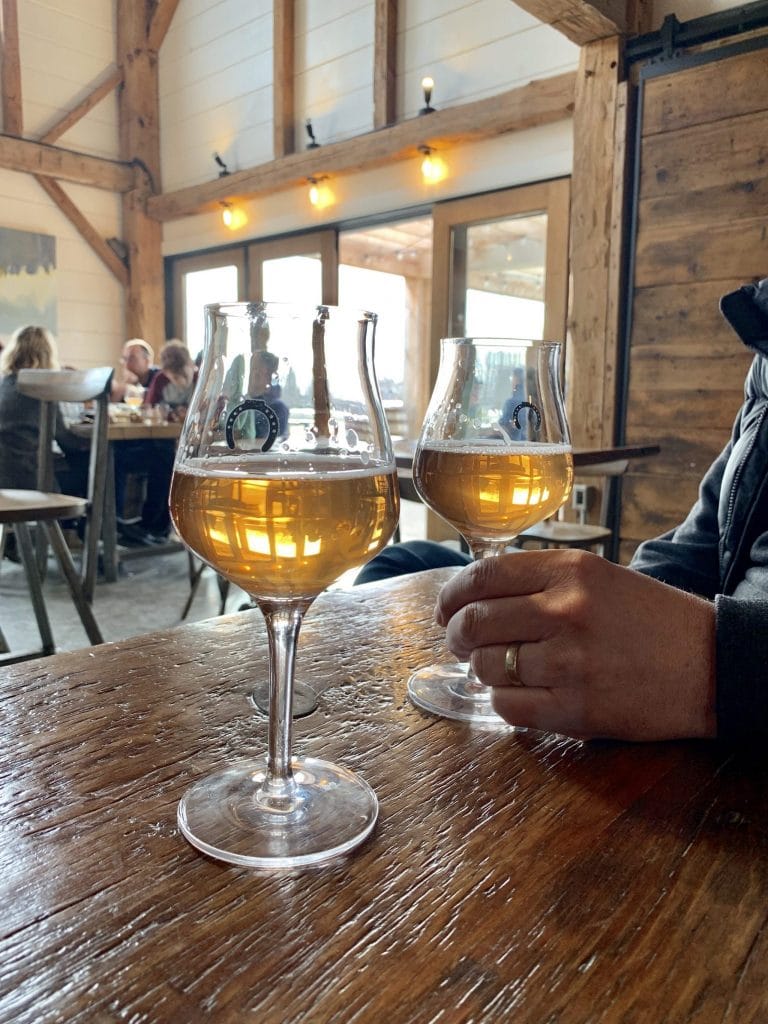 Wine Time
How about a wine tour to some of the less publicized, but seriously-good-wine spots you might have missed or not managed to get to before? I'm thinking Morandin, Stanners, and The Old Third on one side of the County or Lighthall, Long Dog, and Exultet on the other. Don't forget our killer breweries and cideries, many of which are popping up as we speak: Parsons, Midtown, County Cider, Settlers Cider, Gillingham, Matron. Wherever you end up, talk to the winemakers, brewmasters, and people on the tasting bars. These are your neighbours, people. Expand your circle.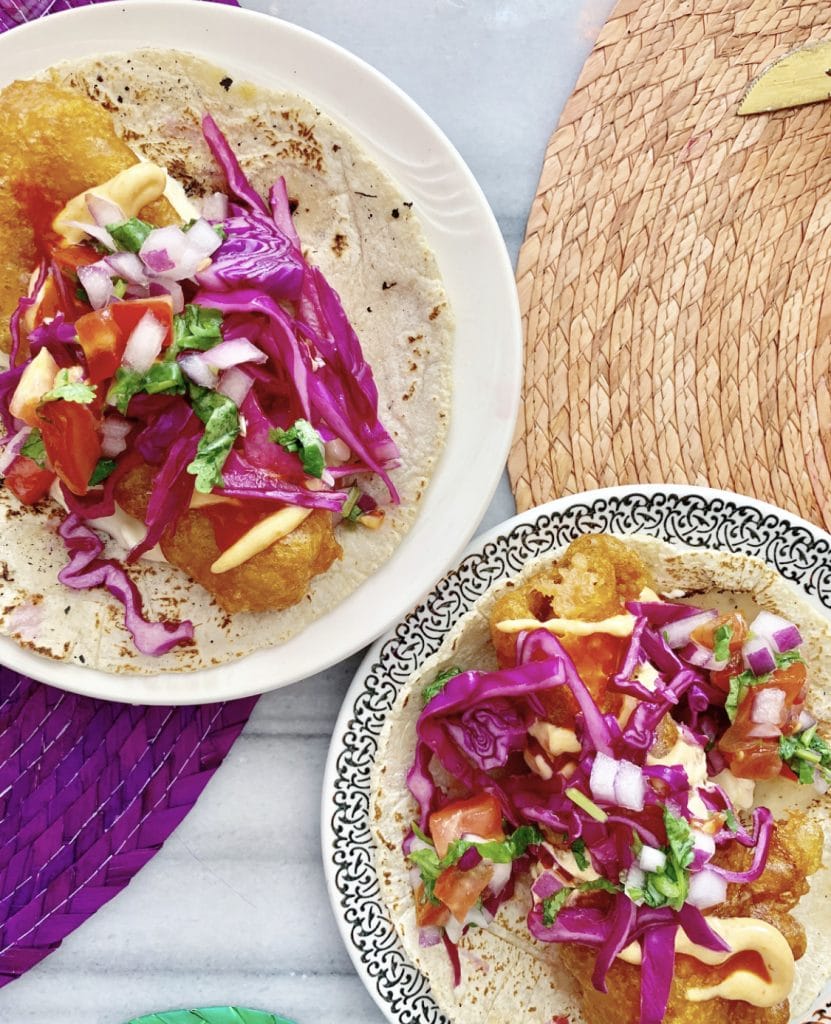 Eat Local
Let's talk food. It's May and we're busy, but we haven't hit full force yet—so how 'bout we get out and explore the insanely good cuisine we have available to us. I'm talking about genius chefs working with indigenous ingredients at some of the most awesome restaurants in the County—before there aren't any free seats. And you know there's one spot you're hearing about, but just haven't made it into yet—well here's your chance. A few faves: La Condesa, Flame + Smith, Stellas.
Culture Jam
Up for a cultural experience? Catch a world-class show or a flick at The Regent, dance the night away at The Hayloft, check out a few galleries or studios, perhaps the Maison DuPoivre at Camp Picton Airport, The Hache Gallery in Bloomfield, or wander the gardens gawking at the lovely sculptures at the Oeno Gallery at Huff Estates.
Shop Til You…Are Ready For More Wine
Both Bloomfield and Picton have awesome little shops on the main streets that you probably don't ever have time to explore. Park on the back streets and wear comfy sneaks. Duck into the awesome cafes and diners for a fancy coffee or indulgent treat.
Hit The Beach
But not the beach you usually go to. And not your backup beach either. Go to a totally different one than you would ever visit. You're going to love this.
Just Stay In
Hanging at The June actually feels like a vacay, so you might also decide to just let the car cool off and stay in for the weekend. For starters, their lobby area is gorgeous and transports you to a place that doesn't feel quite County, with southern climate accents and décor—from exotic plants to tropical textures. Rosé it up at their gorgeous bar or get comfy with local bubbles and fancy snacks around the fire in their outdoor lounge. I even managed to get in some shopping at their little boutique nook, with I-need-this-stuff kitch from "This Might Be Wine" coffee mugs to really cute gear. They also have some super fun activities/events on the radar—ranging from happy hour to yoga to cool pop-ups to outdoor movie nights. Here's a look at their do-list for May…
8am – 10pm Daily   Lobby is open to the public. Drinks + Snacks on tap!
8 – 9pm Daily                           $5 Rosé. This is good.
May 17 + 18                             Pop-up Fashion Truck
May 18                                       Yoga Starts (Public welcome, register here)
Saturday – Detox Retox at 10am – $20 (Lululemon)
Sunday – Slow Flow & Sound at 9am – $15 (Megan, Wild Heart)
Wednesday – Morning Flow at 8am – $15 (Megan, Wild Heart)
Staycation Deets
We totally love our mainland friends, but this Un-Getaway promo and giveaway is for locals only. Note: you will be asked to answer some secret local-County-knowledge skill testing questions…and probably also tell us your County address!
1. Locals-Only Promo
When you book your staycation at The June for weekdays (Sunday through Thursday) in May, you'll get:
25% discount on your room
$25 food + beverage credit for the Lobby Bar
We're so happy to bring you this deal! To access it, book here and use the promo code: STAYCATION
2. Giveaway
OK. Time for the best giveaway ever! Enter on LIFE AU LAIT's Instagram to win a one-night stay at The June (Valid Sunday to Thursday in May.) All you have to do is follow The June Motel and LIFE AU LAIT on Instagram and tag as many local friends on the contest post as you'd like to get extra entries for the draw! Contest runs until Saturday, May 4th at midnight when we will select our winner at random.
#countyup