The first time I walked into Bloomfield Public House, I knew it was going to be a fixture in the County. The atmosphere was bright and vibrant with two-storey high reclaimed tin ceilings and October sunlight streamed through a broad bank of windows spanning the length of the building's street side facade. Beneath my feet, beautifully distressed concrete floors supporting luxurious French bistro fixtures, elegantly balanced between classic and modern designations.
Wife/husband force, Sommelier Laura Borutski and Chef Elliot Reynolds had a clear vision of their new business and the launch phase was well-received. "We wanted to make certain it would be a community space," says Elliot. "We were reinventing the building, breathing new life into it and it went from a grocery store to a bank to a restaurant—but the one thing in common was that it was always a community hub."
The pair wanted to capture an incoming tourist market, but more than that—they wanted to create a home base for the community, Elliot explains. "Come in any time of day. Sit down, have a coffee and watch the traffic walk by in the morning or come try the full menu from lunch to dinner and cocktails afterwards."
The launch event this past October really highlighted the Bloomfield crowd—more artsy than their Welly peers, though all the regular faces were there. Everyone was stoked about the space and enjoying the elegant and delicious sample menu—offering everything from house-cured salmon and smoked charcuterie to savoury profiteroles and scallops on the half shell. The wine was local, delicious, and flowing.
Over the next few months, we were regulars. Stopping in for coffee or lunch and a chat—and then the Polar Vortex hit, the weather turned, and the County went into hibernation mode. Laura and Elliot saw the community cocooning and responded by gearing the space towards family-style daily specials with a comfort food theme—fondue night, wings and brews—anything that would get the locals out and make us happy. They brought in live music, offered smoked rabbits to share, and lined up other awesome weekday programming to complement their regular menu and venue.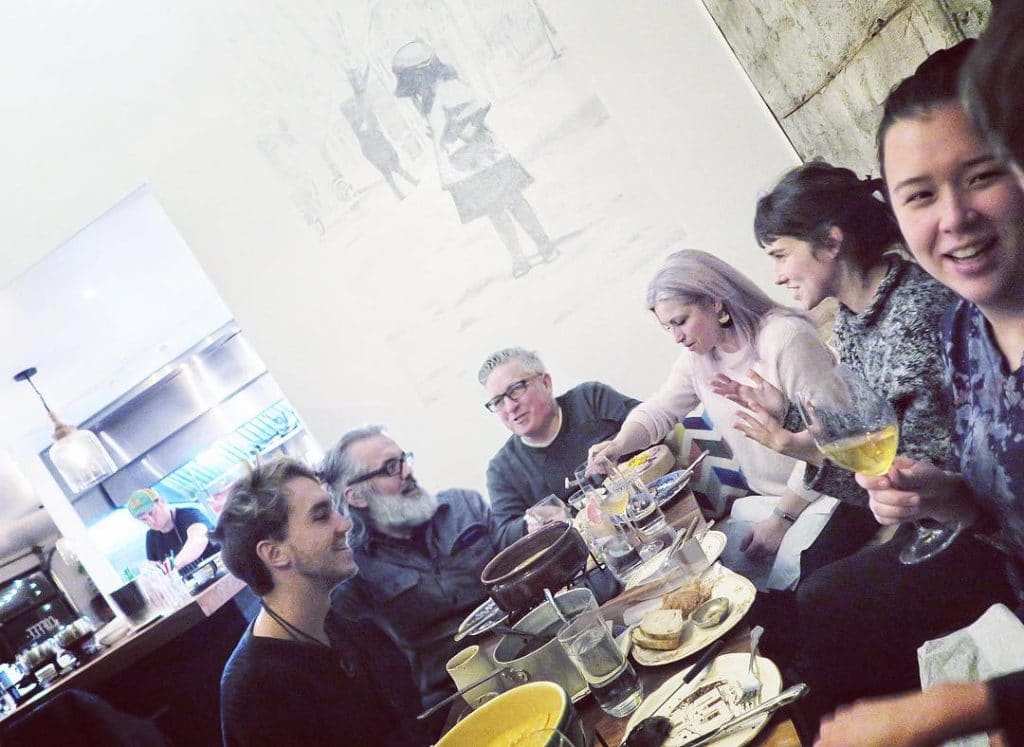 So we planned a fondue feast and felt the warmth flow through our conversation, restoring us with beautiful food, wine, and ciders. Even though it was only February, the County was coming back to life with a series of top tier events on the schedule and Bloomfield Public House was a part of our re-emergence.
It was time for BPH's second phase to come into play. "We're ready to implement our food vision," says Laura. We're sitting at the table by the old bank vault, sipping Americanos and watching the snow fall outside. She explains that they opened the doors of BPH as soon as they could, but that their true culinary vision was to define County cuisine. "We're going to show the region's personality and celebrate it."
I first met Laura and Elliot years ago when they were running The Hubb, a celebrated restaurant at the lovely Angeline's Inn—just down the street. I remember their dedication to local providers—working with farmers to source the best, freshest ingredients and close the gap in the food commute. The menu at BPH has retained the same 'elegant rural food' feel, but County culture has changed and in line with this, the new menu feels more approachable. "We're going to be implementing this philosophy hard," says Elliot. "Canning, preserving, slow-cooking, slow prep." He pauses to explain. "Did you know that at one point, the County was a canning maven? We want to return to the benchmark."
"We're looking at those ideas," he continues, "Old County, County cuisine, rural cooking, gracious hospitality…the focus is on 'slow'. We want to take our time. We want to make flavours beautiful."
So what does County cuisine look like? We get into it, discussing local fishing—the beautiful pickerel, perch, and walleye that have been fished here for centuries. "Even salmon" adds Elliot, "if you're willing to go a bit further out." Then there's County foraging, an activity that takes place primarily in the spring and sometimes fall, yielding foodie favourites, like ramps, cattails, fiddleheads, and a variety of awesome mushrooms.
If you drive around PEC you'll see a number of old brick smokehouse structures, most of them out of use. Bloomfield Public House's onsite smokehouse rekindles this practice (pun intended), providing lunch and dinner smokehouse specials for patrons alongside a variety of staples.
Laura fills in the gaps in the menu, talking details about in-house fermenting, preserving, and pickle-making (oh my god, these two literally own the pickled-food shaped space in my heart), plus workshops to share knowledge. "We will be making as much as we can here—from charcuterie to our own fermented butter" she says. This means local mortadella, kolbassa, fuet, slow-smoked ham, terrines…and all sorts of other deliciousness.
This program will really come into its own this spring as the restaurant concept goes into full effect, showcasing the original intention of its owners. "We'll launch our outdoor kitchen when it warms up, serving the patio," Elliot says showing me the super-cool built in concrete fire pit near the smokehouse. "We'll have in-season ingredients cooked on the fire. It will be a standing tapas arrangement—social and informal."
"Also, a tiki-esque bar with themed cocktails" adds Laura, a twinkle in her eye. Inside the restaurant and behind the bar, she will continue to stock a rotating wine menu, with local and international features alongside bright, refreshing cocktails and the promise of a local rosé on tap.
Well, 'County Cuisine' checks all of the boxes on our slow-living/simple life list. Not to mention, that serious story we're working on of the best PEC patios to hit up this summer? Bloomfield Public House is on it.
BPH is located at 257 Bloomfield Main Street, Bloomfield, ON K0K1G0
Winter Hours
Coffee: Tuesday-Saturday / 8am – 3pm
All Day Dining: Tuesday-Saturday / 11am – 9pm
Brunch: Sunday / 10am-3pm
*CLOSED ON MONDAYS*
613-393-9292
[email protected]