I loved the 'Toronto vs. Everybody' tagline. In the city it made us feel like we were a part of something big—like we were all players, putting it on the line for world domination. Then when I first moved to the County, I spotted someone wearing a T-shirt that read "The County vs. Nobody" and my world flipped upside down. It was a huge revelation: that's why we were all here—to live in a place where community was king, to be here for each other, to win…together.
If you go to basically any winery, brewery or cidery in PEC, they'll recommend a bunch of others to visit. Same goes for the restaurants, stores, and short term accommodations. In high season, we all sell out out of everything, so we collaborate to help out our visitors who are bewildered at their inability to get seats, beds, or bottles upon arrival. We lend each other equipment, help each other out of jams, and even promote great businesses outside of PEC that share the same 'let's do this really well and have fun doing it' philosophy.
It's a totally different mindset and it's amazing—imagine living in a place that epitomizes good vibes only? Then we spotted a County micro-trend: everyone was wearing everyone else's branded gear. Midtown Brewery, The General Store, Prince Eddy's, Parsons—our actual style was to represent each other, from suppliers to supporters to competing businesses—we were all geared up in each other's swag in a show of total love and support.
So we decided to capture the scene and the current spirit of the County in this story, by repping our people repping each other.

"It's hard to pick a favourite. The design and quality of restaurants themselves, as well as their swag, have come so far since I used to come here as a kid with my grandmother. Midtown gets it. Delicious food and beer that appeal both to locals and tourists. Comfortable t-shirts and mesh backs. And I wear my Idle Wild hat not only because it fits well, but because I'll always back Pauly. He was my sous at the Dev and he works like an animal. But just because I don't wear a business' hat or shirt doesn't mean I don't support. I appreciate and love a lot of the restaurants in the County."
Matt's Gear: Idle Wild + Midtown Brewery

"I love my General sweater. It's comfy and looks great and Nick at The General makes me the best mocha latte in the world. I also love repping The Hayloft at work on weekends—it's a nice way to promote a local venue and it reminds people to buy tickets if they haven't already picked them up.
County swag has become our unofficial uniform at Midtown, it's an easy way for the staff to be ambassadors of all the amazing people working hard in PEC and it has really caught on. We spotted Midtown Ts and both Idle Wild and The General caps at our resort in Mexico, it was very exciting."
Elisha is wearing: The General PEC

I love to support companies that support our community. 555's pride hat is my summer go-to. We all deserve respect and inclusion and to have a brewing company recognize that means a lot to me.
Carson's swag: 555 Brewing Co

It's great to see all this support, with County locals and tourists alike wearing local business swag. I do have a special love for my blue Midtown baseball cap and I'm excited for the new shipment this spring as my old cap is pretty worn out. I heard through the grapevine that there's a black-on-black cap this season, so hoping to get my hands on one.
Last fall I was at Parsons' Brewery, one of my favourite spots in the County. Samantha had just received their fresh shipment of flannel plaid work coats (a.k.a. County dinner jackets) and I picked up the blue and black one. I wore it pretty much every day this winter, since it's perfect for those colder days in the County, though my wife did comment about wearing a plaid shirt with it. Is there such a thing as too much plaid?
Hidde's Gear: North Standard, PEC

"Wellington was the first town I visited when passing through on a motorcycle trip from Vancouver in 2011. I fell in love immediately. It reminded me of my hometown in Miramichi, NB—not only in it's quaint beauty, but the people here greeted me with open arms. I knew that no matter what problem, I had someone who would be there to help. I didn't realize how much I missed being part of a community until I came here. Maritimers are a very proud people and I felt lucky to call myself one, but after my years here, I'm equally proud to call this town home.
To me, Enid Grace Cafe is the heart of Wellington."
David is wearing: Enid Grace Cafe
Leah loves this t-shirt—it's all about the heavy cotton and it's the most durable county branded shirt she has. "Prince Eddy's has fucking delicious  beer. And the guys are alright too," she says, rasping sweet potatoes at home on Friday night after service for the Pride Market. #loveislove
Leah's Gear: Prince Eddy's Brewing Co
Mark Dyett—County Pasty Co.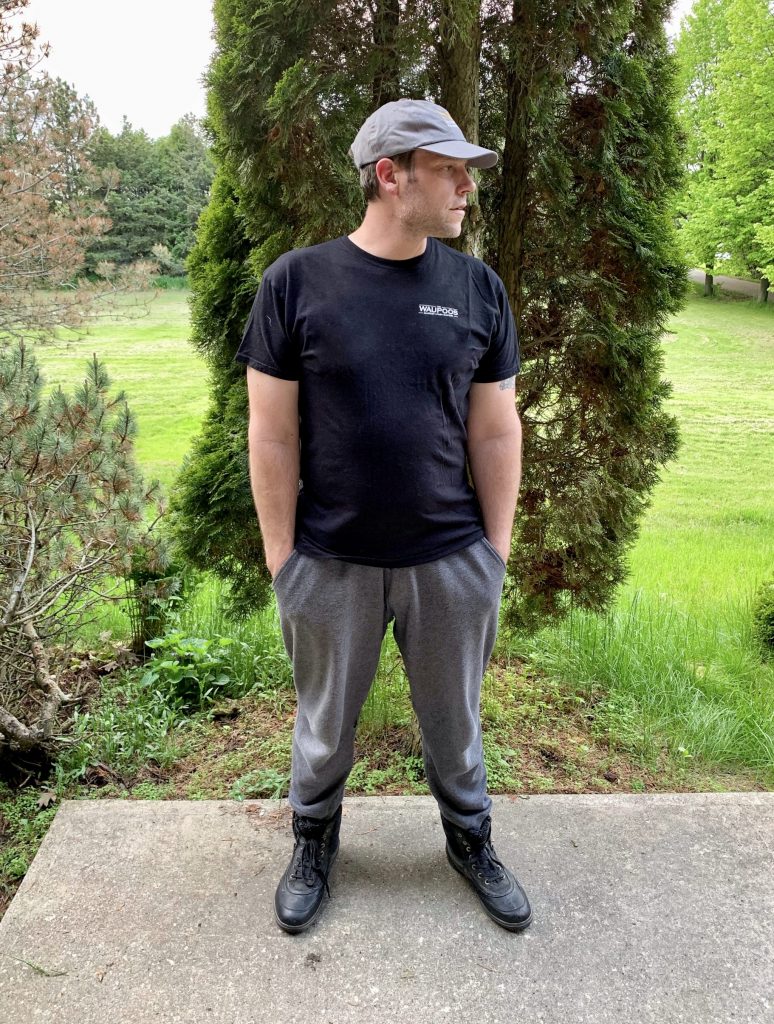 I foolishly entered what is arguably the true centre of Waupoos—Sarah Harrison's pub—sporting a Cressy t-shirt (from PEC T-Shirt Company). Not only did the locals call me on it, but one of the couples there bought me a Waupoos Pub tee and insisted I put it on, to rowdy applause from the packed bar.
Of course I support County. These businesses are run by my friends and neighbours—we're a community. We're all in it together here.
Mark is wearing: Waupoos Pub + Sage Construction 

"I wouldn't say I have a favourite bit of swag. I'm not normally a logo guy, but it's easy to share the love of other hard-working Company logos that aren't corporately backed, here in PEC. I love my new Midtown Cap mind you.
Camp Trillium (est. 1984) is a camp retreat for kids with cancer, with a simple vision: to reach children with cancer by providing them and their families with fun and enriching recreational opportunities. My niece, Aly Davis looks forward to her week on West Lake every summer. She is an ALL ( Acute Lymphoblastic Leukemia ) survivor having being diagnosed at 3 yrs of age. She's now almost 11.
Stew's Gear: Camp Trillium + Midtown Brewery
My favourite County gear has gotta be my black-on-black Midtown hat! It's subtle and understated and represents people working hard to make something cool that's approachable and fun.
Jordan's Gear: MacKinnon Brothers Brewing
My fave county swag item is my Lighthall Vineyards green and gold tee! We've popped the cork on their 'Progression' sparkling wine for everything from birthdays to moving into our first county home to New Year's eve (and their sheep's milk cheese is also divine!) Not to mention, they have a beautiful logo to boot!
Nick's wearing: Lighthall Vineyards + Pyramid Ferments

While I have love for any and all County swag my heart lies with Midtown. I was born and raised in Wellington (but shout out to my Pinecrest homies—one love) though I've been out of the County for the past 20 years. My family and I recently moved back here and I landed at Midtown, where the staff and owners have made me feel beyond welcome.
I love that it's a place that tried-and-true locals feel comfortable calling home too. Over the last couple of months, I've seen so many familiar faces and it's really heartwarming to see the people you grew up with after so long. The staff here also does everything to make everyone feel welcome and to be a real and contributing part of the community. And obviously great beer doesn't hurt right?
Molly's wearing: Midtown Brewery

My favourite County product to wear is the PEC T-shirt Company tees. They're well designed, cheeky, and proudly worn by PEC residents and guests here and abroad.
Duarte's gear: Grange of Prince Edward Winery

"My go-to County gear would include Midtown, 555, Prince Eddys, The Grange, The Marans—anything that looks like it suits my style really. Also, because I spend a lot of my time with tourists, I can rep local industry and send potential revenue their way.
Russ is wearing: Maran's Dine Bar + Midtown Brewery
Sam Valdivia + Rizal Adam—La Condesa

Our fave County gear are our Parsons' t-shirts—because they are soft like a cloud and because the guys from Parsons are the best and we love them."
Sam and Riz are wearing: Parsons' Brewing Co