There are very few wine-related things in the County that are untouched, uncultivated, or unexplored. From the more conventional and much loved 'winemaker dinners' to 'rosé yoga' to the quirky-bordering-bizarre 'wine & knitting circle' and so on—we're milking the fruits of this "great dirt" as our friend
Geoff Heinricks
called it, and we're doing it in a whole host of very creative ways.
The Late Great County Wines
But despite our notoriety as a wine region, PEC winemakers face some real challenges: our winter temps are harsh and the other three seasons are capricious by nature, keeping us on our toes with floods and frosts. While the resulting wine is, so we say, even better because of struggle and the care required to nurse these berries to fruition, our yields are low by comparison to other wine regions and the limited cases that the wineries produce each year often sell out. This is both a blessing and a curse. It's good, because the wineries can survive financially to tackle another season, but it's also not good, because it renders many of the older vintages, basically inaccessible. Often, even the wineries themselves have incomplete historical libraries of their own wines and so much of the late, great County nectar has become the stuff of legend—bordering on myth.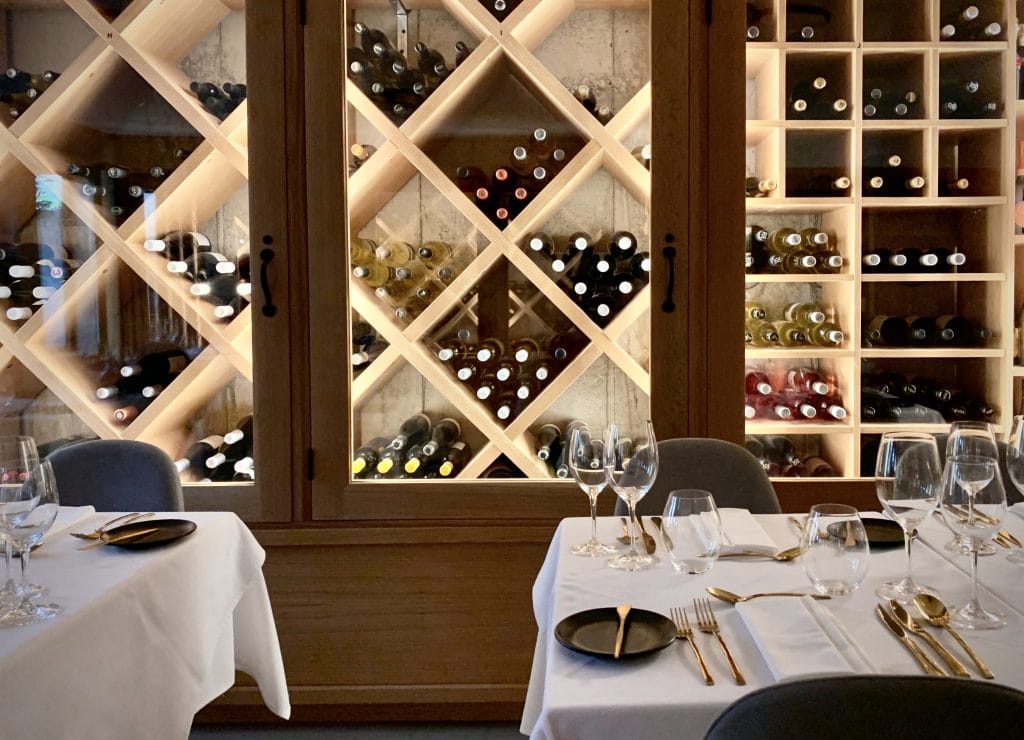 The Cellar
Enter Jordan Martin, Astrid Young, and their magical cellar at the recently  restored
Merrill House
in Picton. Owner and Creative Director Jordan is amazing—he has an instinct for greatness and isn't afraid to push boundaries. Under his hand, MH is a trove of bold, surprising, and storied antiquities from all the corners of the earth. The design is perfect, bringing all of these vintage goods together under a distinctly modern sensibility, peppered with whimsy and humour. Jordan's inclination to source and collect doesn't stop at furniture, so he brought in the accomplished and multitalented sommelier Astrid Young as the House's Wine Director to convert the good cellar into a great one. Her task: assembling a number of rare and exceptional Old World bottles to complement an equally large and comprehensive collection of County wine—both current and historical, many of which haven't been seen for years and some that no longer exist anywhere outside Merrill's cellar and a select few private collections.
This set the scene for the best new idea in Prince Edward County's wine space: A no-holds-barred tasting salon that would give us all access to back-to-back tastings of County wine.
All hail Coravin
The final cherry on this sweet pie was the advent of a new technology: Coravin, a wine access system that allows bottles to be tapped by the ounce. It pushes the wine out and displaces the oxygen so that the remaining wine won't be compromised by oxidation (I'm thinking Nobel Prize level furthering of civilization here.) The Coravin system means that Jordan and Astrid could offer almost anything in the cellar…by the ounce. This set the scene for the best new idea in Prince Edward County's wine space: a no-holds-barred tasting salon that would give us all access to back-to-back tastings of County wine: vertically, horizontally, and comprehensively.
Let's Do This.
Jordan called me—"Let's do this together," he half-asked, half-pronounced. Obviously, I was into it. I wanted to taste seven seasons of this dynamic terroir back-to-back like crazy. Or to geek-out on the coolest of the County's cult wines. Or get deep into why our beautiful County Chards are totally different from all the other Chards. And more than that: I wanted us all to be able to. And the final piece of the puzzle would be to document it all, right here in LIFE AU LAIT so we could look back at what we'd seen and done here and these wines would live on in spirit and record. It was obvious to me that this was the best thing ever and it could only be executed here and now and all together in The Cellar at Merrill House.
The Cellar Salon
The first one, naturally, was sparkling wines (to christen our launch.)  Coravin isn't compatible with sparklings, but what the hell—it made sense to begin with bubbles.
The Deets Going forward, we'll be hosting The Cellar Salons every Tuesday at 3pm on a new theme. Next week: Big Reds. We meet in the conservatory bar, through the parking lot entrance: no password needed. Yet.
The List Now the sky's the limit. We're assembling a master list of our wine-loving friends, peers, and regular attendees (so we can extend the discussion about the wine or give "member" specials, from free flights to tasting prizes to choosing the next theme) until we reach our membership cap, at which point it will be one in, one out (this way we can keep us and members on a first name basis.)
The Setup The Each week we'd choose six County wines and three old world wines for comparison on the theme. The price points per ounce would vary depending on what we were tasting, but we figured a taste of something rare and precious would always be far more accessible than the whole bottle and the other awesome wines would be even more reasonable. We designed different shapes and sizes of flights for different experiences and budgets. At the end of each session, we'd all choose the most memorable wine of the night. Something that stood out on the panel and deserved a shout out.
The Record Later in the week, we'd follow up the salon with an article summarizing the event, the theme, the wine, the tasting notes, the reactions, and the night's favourite, and a saveable infographic card outlining the wines and Astrid's tasting notes. Essentially, we'd build our secondary library here, on record for posterity.
The Inaugeral Sesh: County Sparkling | October 5th, 2019
Lonelle's Notes:
"The County Sparklings were wonderful. Obviously, the County offers more fizz options than we tasted here, but this first session explored a contrast in style. They drank well and actually set each other off delightfully. It was a reminder of how diverse County wines are—Astrid chose six and they ranged from more traditional in style to funky and experimental. The two most notable components were the tasting of three of my go-to standard bubbles—the ones that we drink and serve quite regularly—right next to each other. I've never done that and I couldn't believe how much it actually pronounced the notes and tones of each. The other great thing was having the opportunity to taste a wine that I hadn't gotten around to because I was so comfortable with the other three—and was really surprised at what a solid contender it was." Here's the whole lineup:

Astrid's Notes
"I feel like this lineup was a perfect representation of the diversity of our region and its terroir, and most especially of the unique approaches of our winemaking talent. As for the old world selections, they couldn't be more different. This, to me, illustrates how individual wines are like people. Even though they share a common thread—in this case, bubbles—they can be so remarkably individual. They speak to their tradition in the same breath as they announce their presence in the here and now. This is the essence of wine and part of its endless fascination."
Jordan's Notes
"It was an absolute pleasure hosting the inaugural Tasting Salon in The Cellar with Lonelle and Astrid. This incredibly talented and energetic pair brought attendees an experience unlike anything in Prince Edward County. We tasted through six diverse County sparklings and compared them against three Old World examples. With a different theme every week, a year from now I am confident that our regular salon members (hey, remember that the membership is free—email us at
[email protected]
to get onto the list) will be the most well-versed imbibers on the island and experts on this amazing wine region."
Most Memorable Wine…
And the MMW most memorable wine of the night goes to Broken Stone's Exuberance. No one tasting on Saturday had tried it yet and everyone agreed that it was totally interesting, memorable, and would be a welcome addition to our own personal lineups.

Taste these wines together at The Cellar or to buy a bottle, visit these County Wineries