STALL  |  Karlo Estates' Virtual Bottle Shop       .
STUFF  |  Food (Wine, Beer, Cider, Spirits)         .
SHOP   |  Order online or on location
Our wines are low intervention, old world in style and are the first vegan certified wines in the world. Prices range from $18.00 for our Patio Reserve Rosé, through classic Chardonnay, Pinot Noir and complex blends to our investment quality $100 Sextus, a rarely done six "first growth" old world mix of Merlot, Cabernet Franc, Malbec, Petit Verdot, Cabernet Sauvignon and the rare Carménère.
Karlo Estates crafts gold medal wines from exceptional terroir—made by one of Canada's best winemakers, Derek Barnett.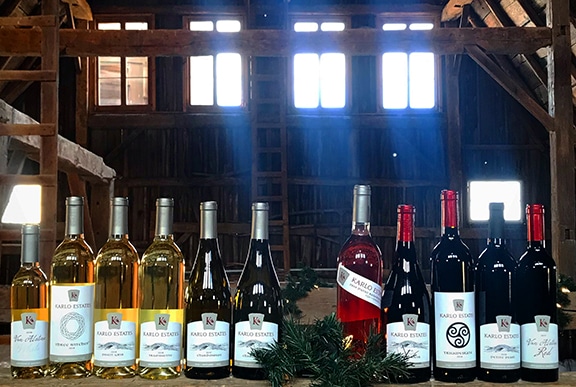 Free shipping anywhere in Ontario with the purchase of six wines or more
We also offer artisanal plant-based cheese and charcuterie for dine-in (when able) take-out or local delivery. Visit our wine lounge equipped with virus killing fresh air ventilation for wine by the glass and live music performances.