In celebration of International Women's Day, we joined forces with The County to talk to different 'lady bosses' from across Prince Edward County about what they do, why they do it, and the women who inspire them.
Krista Dalby, Artist & Artistic Director
 The Department of Illumination The Firelight Lantern Festival and ICE BOX are creative events in Prince Edward County that engage hundreds of community members of all ages in arts experiences.
Krista is an artist and community builder. "At the Department of Illumination, I oversee the creative vision of the work, selecting and supporting the artists, liaising with community partners, managing finances and coordinating marketing, volunteers, workshops, and so on. As an artist I like using free and cheap materials like cardboard, papier mâché, and recycled stuff of all kinds to make sculptures and installations… then often destroying them when they've served their purpose. It's so cathartic!"
The Big Picture "One of the things I value most is being together with people in the real world—making eye contact, hugging, laughing, making art, drinking tea, crying (just a little), sharing meals, and admiring sunsets. Human connection is powerful and we are always the better for having spent time together."
 Sharing The Love "I just finished working with artist Andrea Piller on ICE BOX, and I loved getting to know her better. I have a lot of respect for her as an artist and admire her refined sense of aesthetic, so apparent in all she touches: her ceramics creations, her home, her garden, her personal style. She has a very thoughtful approach to art and life, and she makes me feel seen and heard, like she is really paying attention. That's a real gift.
Enid Grace, Owner/Operator/Chef
 Enid Grace Café A petite eatery in the heart of Wellington serving as an homage to Enid's time in Italy and France and dedicated to her community in Prince Edward County.
Enid's role is all-inclusive. "I arrive pre-sunrise every morning to bake and prep everything for the day with the intent to sell it all before 2pm, following a European model that results in no food wastage. I also run all the daily operations—training and supervising my staff, interacting and engaging with my customers, ensuring their experience is the best possible. Day-to-day accounting, ordering product and keeping track of inventory are the less glamorous aspects of the job that I manage too."
The Big Picture "It's important to me that I give the best of myself in whatever I'm doing. This can be challenging, as some days are easier then others. As a woman, I often feel like there isn't enough time to do everything I want at the level I want to do it, so self doubt can seep in. Running your own business can be exhausting both physically and mentally, but I try each day to remember why I'm doing what I'm doing and cut myself a little slack when I can't do it all exactly as imagined or intended. Having a supportive community, particularly a strong circle of other encouraging and inspiring women also helps me push through the more difficult moments and remember my focus and goals."
Sharing The Love "There are many woman I truly admire, but Tara McMullen often stands out—a very talented and sought after photographer and entrepreneur. She is a beautiful friend who listens and shares with intent and heart and makes me laugh with her quick wit. Like many of the incredible women that I'm so blessed to have in my life, spending time with Tara is always a boost for the soul."
Megan Marie Gates, Sound Meditation Practitioner + Yoga Teacher/Studio Owner
Wild Heart Healing Arts Space A holistic, creative arts hub in the Picton Armoury building offering movement practices, yoga, Chinese Medicine, and sound therapy.
Megan's role at Wild Heart is multi-faceted. "I am a co-founder and co-director (alongside my beloved human, Stacey Croucher), sound therapist, and yoga teacher. This means I run everything from scheduling special events and classes, facilitating events, teaching yoga, and offering sound meditations."
The Big Picture "To slow down and find spaces of stillness for recalibration and digestion. To play and dance and howl. To put down the phone and turn off the screens to tune into what is here and now. And maybe—the most important one for me right now—to keep my heart awake and open while maintaining strong boundaries."
Sharing The Love "I admire my wife, Erin Lachance, who is a realtor with Century21 in the County. I admire her for her steadiness, her honesty and her work ethic—and it's been so wild to watch her build her career with such authenticity in the County. She is the Earthiness to my Airiness and has taught me so much about what it means to love, to be a supportive partner, and to be a damn good entrepreneur. She is also a fox!"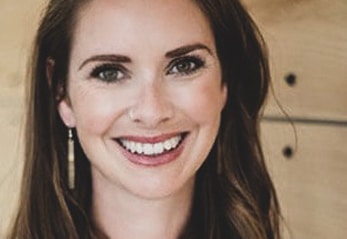 Shannon Pitt, Owner and Director of Strategy + Partnerships
Yeeboo Digital is a young, rapidly growing digital agency, supporting non-profit clients across North America in their efforts to save more lives from war, disease, homelessness, extinction, and abuse.
Shannon founded Yeeboo Digital in 2010 with her husband Erik. "I'm all about digital marketing—using smart strategy and deep data to help more charities. I have made a name for myself building successful international advocacy campaigns that save lives and lands. Passion for finding the best-fit solution for my clients, and an elegant and creative approach to marketing has made me a successful strategist.
The Big Picture "The digital landscape has brought so much to our lives in general and it's loaded with pros and cons. It's important to me to say what's good to someone in person using real life 'likes' and not just hide behind Instagram, Facebook, LinkedIn. Raising our two sweetheart children has made this even more of a priority. They are growing up in a world that we are all figuring out together. I'm all for positivity, friendship, and community and I want my children to look for the same. Compassion for those close to us will lead to more compassion for our world—something we work to bring out in people every single day.
Sharing The Love "There are so many women here in PEC and just over those three bridges and one ferry that inspire me. Elisha Andrewsky who runs our local and County hotspot Midtown Brewery, is a brilliant and fierce mother. Diana Cooper is born and raised County—she owns and operates Green Gables in Bloomfield, a stalwart shop. Her kindness and can-do attitude are as genuine as it gets. Kate Vader is a smart, savvy, and tireless realtor, a mother to two little ones, multi-property owner, and traveller—her energy is amazing. Tania Kolesnik is dripping in positivity and inclusivity. A busy business owner and brilliant mama, she brings women together through social media in a way that we don't see often enough. Tara McMullen is raising a darling and funny little boy, running an insanely successful photography company and a stunning rental property.
Dodie Ellenbogen, Owner/Operator/Farmer
The County Bounty (Artisanal Soda Co) Beginning as an organic veggie farm, County Bounty has evolved into a successful natural soda producer by using their farm-grown ingredients and where possible, sourcing locally.
Dodie's role includes absolutely everything, from end to end. "I grow the ingredients, develop the recipes, make the syrups, carbonate, bottle, package, market, and distribute the soda. I even did the artwork for the logo and the labels! In some ways, I love working alone and the freedom of making decisions on a whim or changing the plan—but I also really appreciate the help when I get it."
The Big Picture "I started farming because it became clear to me that my purpose in life is to be a guardian of the planet and protect the earth, which provides for us. I chose to begin nursing the soils on my little piece of property, back to health after 30 years of over-grazing. I've found that if we don't do things that challenge us, our spirit dies—luckily farming never seems to get easier. I also think about how to transform the system we operate in into a culture in which healthy humans can grow and thrive. We can all care, think, learn and act, moving as a culture towards reducing waste, suffering, and injustice."
Sharing The Love "I had the pleasure of working with Julianna Guadgnin, a true local, this past summer and I am in awe of her and her mother, Ineke Guadagnin. Ineke raised and homeschooled four amazing human beings before going back to school to get her Masters, and she is now back in the workforce and loving it. They are always ready to help any way they can, giving me a real sense of community and love. I hope that I do the same for them and other folks."
Samantha Parsons, Co-Founder & Brand Experience Parsons Brewing Co. 
Parsons Brewing Company is a farm brewery founded by Samantha and Chris Parsons. Along with their three children, Chris and Sam work on the farm where they focus on curating an experience for their guests focused around the enjoyment of the fine brews Chris brews.
As a partner in a small business, Samantha wears multiple hats. "My main focus is to create an experience for our guests that is reflective of our values, the same values that now inspire our business. It is my job to ensure this experience is translated across all areas of our business."
The Big Picture "I truly value authentic and meaningful connections"
Sharing The Love "There are so many kind and talented women in the County. Kathy Kennedy is a force in her field. As the director of the Prince Edward Learning Centre in Picton she advocates for education, specifically supporting at risk youth our community. It has been a privilege for me to get to know, I am inspired by the passion and knowledge she brings to her role.
Caroline Granger, Winemaker, Vineyard Sage, Mother & Maggie Granger, Winemaker, Vine Whisperer, Daughter
The Grange of Prince Edward Winery Founded 20 years ago, by Caroline, The Grange is a women-run family business and estate winery, guided by Caroline and her daughter Maggie and only producing wine from grapes grown on its farm.
Caroline brings forward the history of the winery, so that they can continue to learn and improve. "I hope always to be an inspiration to those on the farm to strive for the best expression of their contribution to the farm. My role operationally is to ensure the vineyards have what they need to thrive and that the wines produced by the grapes are carefully tended and given the time they need to find their best expression."
The next generation of Grange winemakers, Maggie does a little bit of everything. "My favourite role, though, is out in the vineyard. It's so rewarding to start with so little in the Spring, watch that grow into a thriving abundant vineyard, and then harvest the literal fruits of your labour. It's the most 'real' job there is."
The Big Picture "It's important to be a light, not a judge," says Caroline, "and leave whatever I touch better than I found it."
"For me, authenticity is everything," says Maggie, "making something real and unique is my life's work and will keep me learning for a lifetime."
Sharing The Love "There are so many women in The County I admire" Caroline says, "but if I had to name only two it would be my mother and my daughter. My mother Diana because she taught me to be courageous in all things, and my daughter Maggie whose vision for the future inspires me daily to want to be a better woman."
Maggie says,"My team at the Grange is comprised of many amazing women that I admire and I want to thank them all for their amazing dedication, their hard work and for making the Grange a safe and inspiring place for women to be—and of course, my mother Caroline Granger who is the inspiration for everything I do."
Profile photos provided by the featured women