Keint-he sits at the top of a hill just outside of Wellington and just far back enough from Loyalist Parkway to feel like a hidden oasis. In the summer, the rolling vineyard seems to continue all the way down to the sparkling waters of Lake Ontario, a view that's almost certainly best enjoyed on their stone patio with a glass of Riesling and local eats from in-house restaurant Guapo's Cantina.
Owned and operated by the Rogers family, Keint-he was the first in a group of family businesses that would eventually come to include Agrarian Market in Picton, Agrarian Bistro in Bloomfield, and the Wellington Farmers' Market. General Manager Bryan Rogers admits that what initially drew his family to the County was the reasonably priced real estate, compared to Niagara. But what kept them, like so many others looking to plant roots here, was the soil. The family acquired three pre-existing vineyards and planted a fourth, on several different soil types with the common vein of limestone shelf running through each.
"Almost all of the producers in Prince Edward County are passionate about Pinot Noir. The microclimate and the limestone make for an interesting story being told in the glass. Four terroirs for us to make Pinot from, all within the County microclimate?" Bryan remembers thinking, "That's nothing short of titillating! At the time I can remember feeling like we were late to the party, but as we all know now, things are only starting for PEC."
County vineyard pioneer Geoff Heinricks was brought on board as head winemaker, and immediately earned the attention of top wine critics. Fast forward a decade and current head winemaker Lee Baker is continuing the original vision of Burgundian wines from County soils by focusing on Pinot Noir and Chardonnay, sourced almost entirely from County fruit. [UPDATE: As of beginning June, 2019, Lee is officially the head winemaker at Redtail Vineyards] His style is minimal interventionist, highlighting the unique character of the individual growing sites around Hillier and allowing the quality of the vineyard to show in the glass.
Only in the County will you find a winemaker like Lee. He's carving out a reputation for himself as a maker of world class Pinot Noir while acting as vineyard manager at all of Keint-he's growing sites. He teaches part-time at Loyalist College and runs a weekly wine class at The Lark in Belleville, and above all is a dedicated husband and father to three young children. Lee also nurtures a passion for food, reflected in his Insta-worthy sourdough experiments, a thriving vegetable garden in the summer, and gigs in mobile kitchens around the County. It all comes together at Keint-he Winery where his voracious appetite for doing, learning, and making more translates to a focused portfolio of wines that are getting better with every vintage.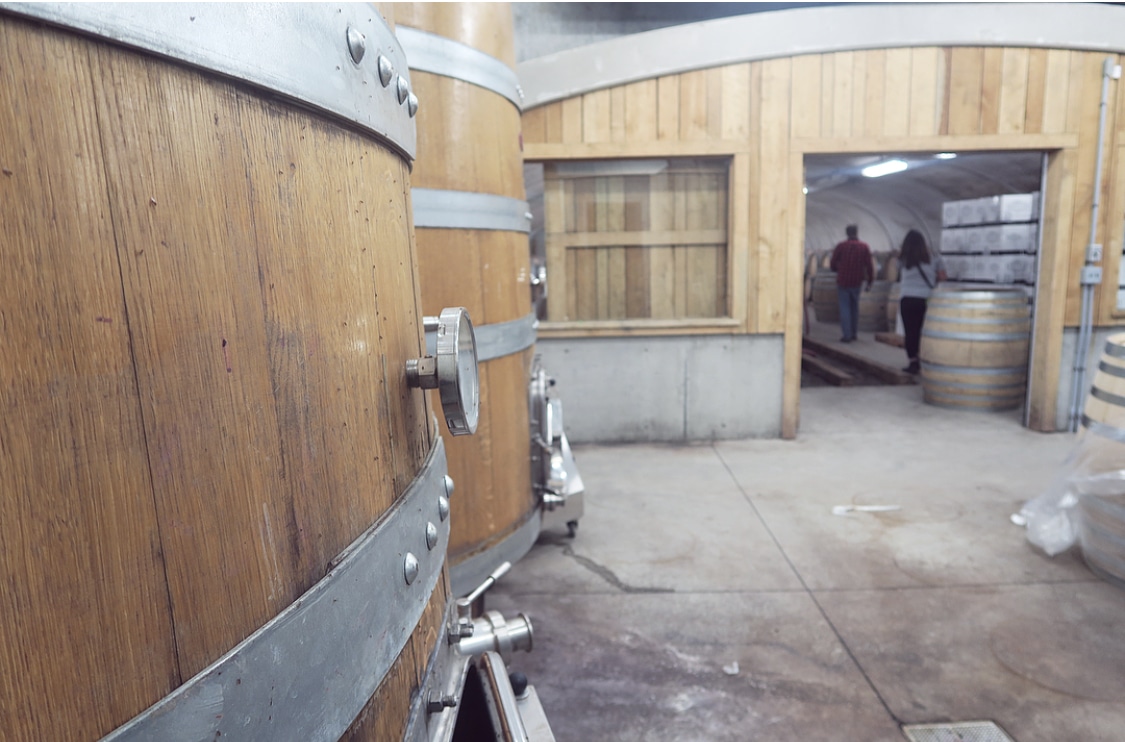 I tasted through the cellar with Lee and found barrels brimming with potential, each one distinct with strong terroir influence. He likes to treat each one individually, adapting his method to whatever suites that particular batch of fruit. When it comes time to bottle they'll be blended together, with each unique barrel contributing a layer of complexity to the finished wine. As we taste through vintages, there's a tendency towards the less-is-more approach.
"Every year I move further and further away from interventions." says Lee as he pours a sample from a barrel that's been left completely unsulphured. "This barrel is the most hands-off I've ever been with a wine, and results like this drive me to keep making wine this way."
It's lip-smackingly good. A fruit bomb up front with depth and complexity that has me returning to the glass wanting more. Most notably, the wine is alive on the palate. There's a freshness and vibrancy that begs 'drink me NOW'.
I had spoken to Lee previously about the similarities between Prince Edward County and Burgundy, and I asked him where he thinks Keint-he fits in to that picture. "I make wine in the County and I want to reflect what we do in the County. Sure, we use the same vessels for winemaking and in some ways the same philosophies as the Burgundians do, but it's still County wine, through and through."
Tasting Notes
2016 Keint–he Voyageur Riesling
VQA Niagara Peninsula | 11.5% abv | 750ml $25.00
Beautiful petrol and ripe stone fruit nose show off the best characteristics of this grape, known for being expressive of its terroir. On the palate it's off dry, with lots of acidity and minerality for balance. This is a mouthwatering, juicy wine with plenty of length and ripe phenolics. Enjoy it right now, or put a few bottles away in your cellar and revisit in five years. (Tasted 11.12.18)
2017 Keint–he Portage Rosé
VQA Prince Edward County | 11.6% abv | 750ml $22.00
A deep rose colour in the bottle, with notes of strawberry, raspberry, and a little bit of something green and leafy. It's only slightly off-dry, with a fair amount of acidity and bright cherry fruit. This rosé really toes the line between white and red — chill it down in the summer for a refreshing patio sipper, or pour it for dinner with grilled salmon and smoked chicken. (Tasted 10.16.18)
2016 Keint–he Little Creek Pinot Noir Closson Block
VQA Prince Edward County | 12.9% abv | 750ml $55.00
The nose is everything you would expect from quality County Pinot Noir – velvety raspberry fruit with some tart cherry. The cherry flavour follows through to the palate, and transitions into a lingering finish. There's a fair amount of tannins present, but they're soft and well integrated. This wine has great structure and would pair beautifully with distinct but delicate flavours like smoked salmon or beef bresaola. (Tasted 10.16.18)
2016 Keint–he Little Creek Pinot Noir Benway Block
VQA Prince Edward County | 12.2% abv | 750ml $55.00
A juicy, ripe Pinot considering its cool climate origin. There's intense dark berry character on the nose with a hint of blackberry jam. Those flavours follow through on the palate, with some juicy acidity from stainless steel fermentation. It's fairly low on tannins — considering about one third was aged in new oak barrels, which makes this a beautiful wine to sip on its own. It would also pair nicely with some rich and flavourful proteins like duck breast or Culatello. (Tasted 10.16.18)
Story & Tasting Notes by Kirstyn Mayers