We're just out of harvest and the winemakers are elbow deep in the dirt. They aren't even picking up messages, never mind returning calls. In-between winemakers and with a charismatic owner, Keint-he Winery was the perfect choice for our Fall launch of the first Winery Profile at The Cellar Salon. Feeling out the best approach for this type of feature, we decided to let the winery decide on their lineup—drawing from favourite vintages, signature bottles and wild cards. As a cool perk, we decided to let the winery also choose the "elsewhere" trio.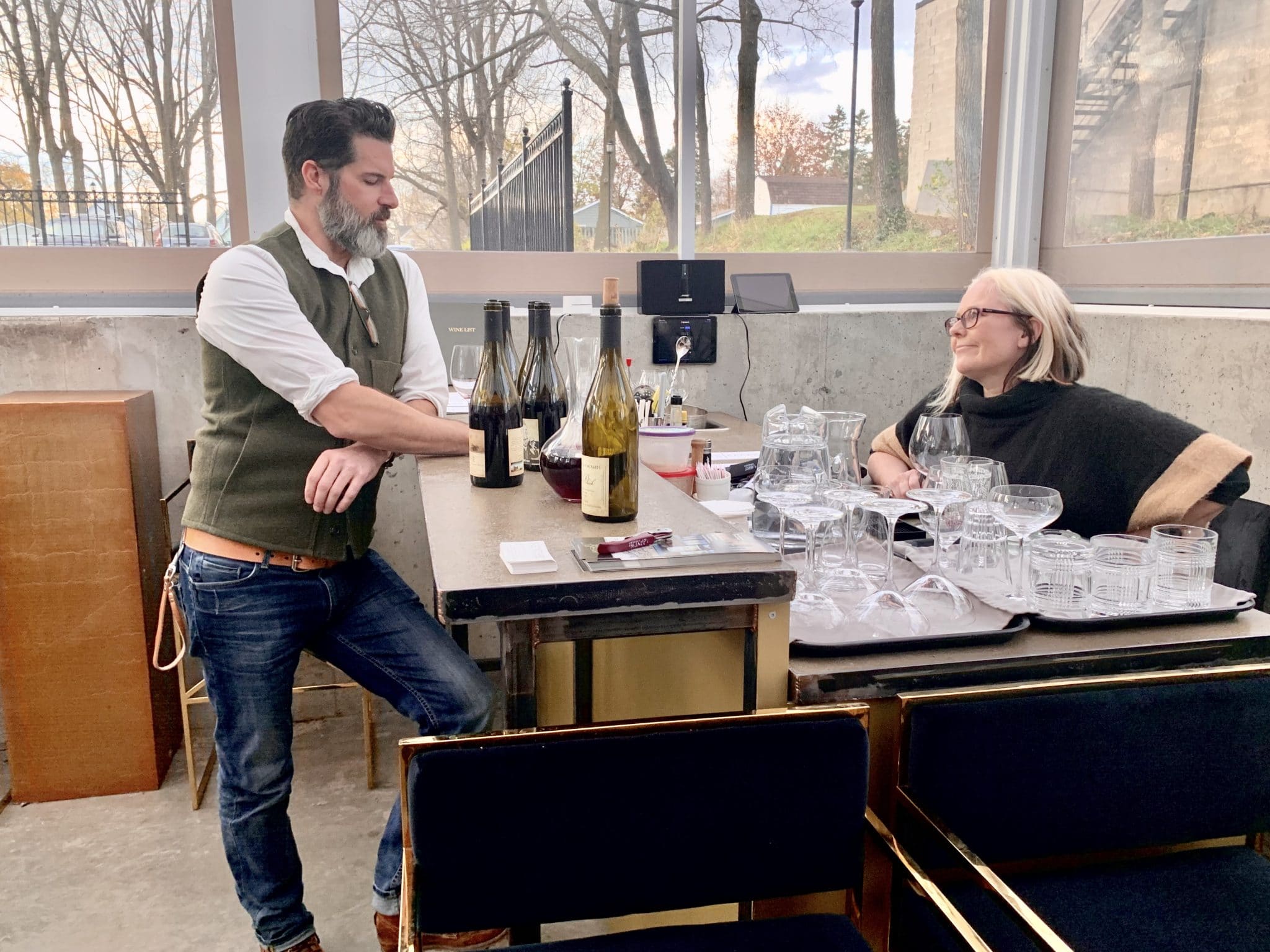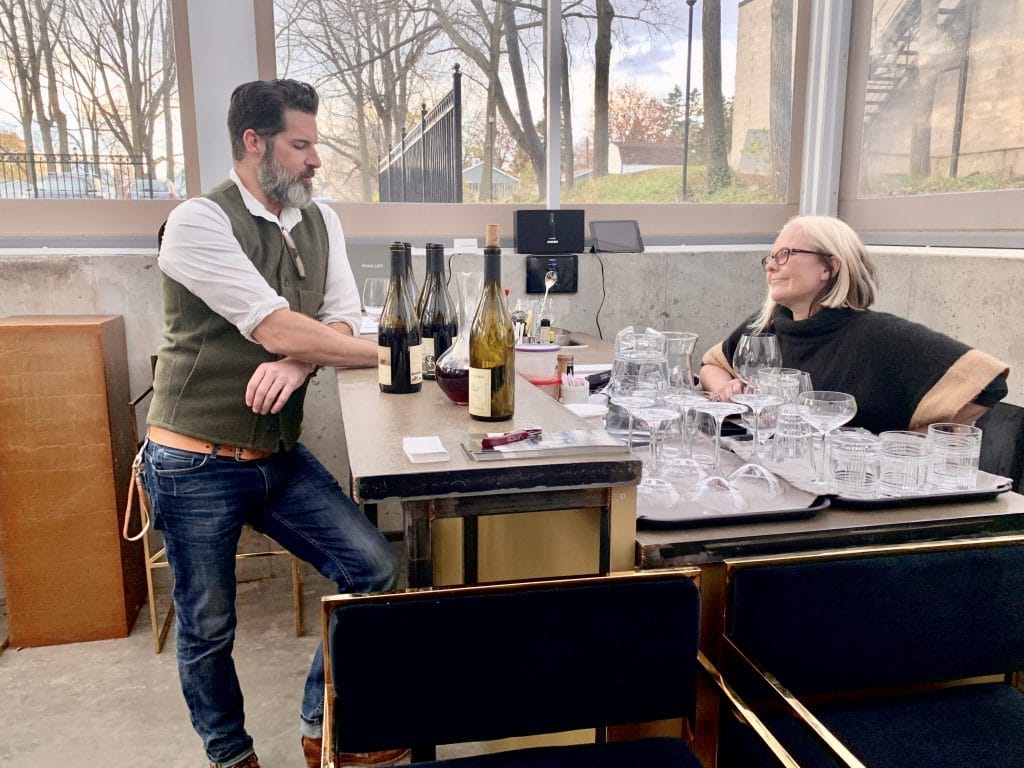 Bryan Rogers, Keint-he Owner & GM was a great host—walking us through the tasting with colour, humour, and perspective. This was an interesting salon and a good deviation from the usual conceptual theme.
Astrid on Keint-he
Boasting the oldest vines in Prince Edward County, Keint-he Vineyards produces some of the most interesting and complex wines you'll find in the county. Their quality is second to none, but it's not all dead serious. Their approach to winemaking and marketing their wine is as down-to-earth as it gets, and Bryan Rogers is the perfect blend of wine enthusiast and brand ambassador. Tasting their lineup is as much about passion as it is about legacy. There's a surprise revealed in every sip and a distinct satisfaction on the finish. As for the "Elsewhere" selections, it's always interesting to see where the winemaker's palate will lead them … according to Bryan, they were just "what he really wanted to try," and who can blame him—although I did bump his more basic Chablis selection up to a Grand Cru, just because.
Most Memorable Wine

The overall lineup was great—the contrasting Chards and Pinots provoked much discussion and some debate among the tasters—but Keint-he's former winemaker Lee Baker's un-everything super-interesting Cluster Pluck Pinot stole our attention that night and ultimately stood out as the most interesting of the winery's selection. As Astrid points out, the CRU Vineyard Montage was in our "Elsewhere" lineup at the salon a week ago, but and we loved it then, so were totally happy to have Bryan choose it in the Winemaker's Choice selection this week. And again, it won our most memorable elsewhere pick—obviously this one's a crowd-pleaser.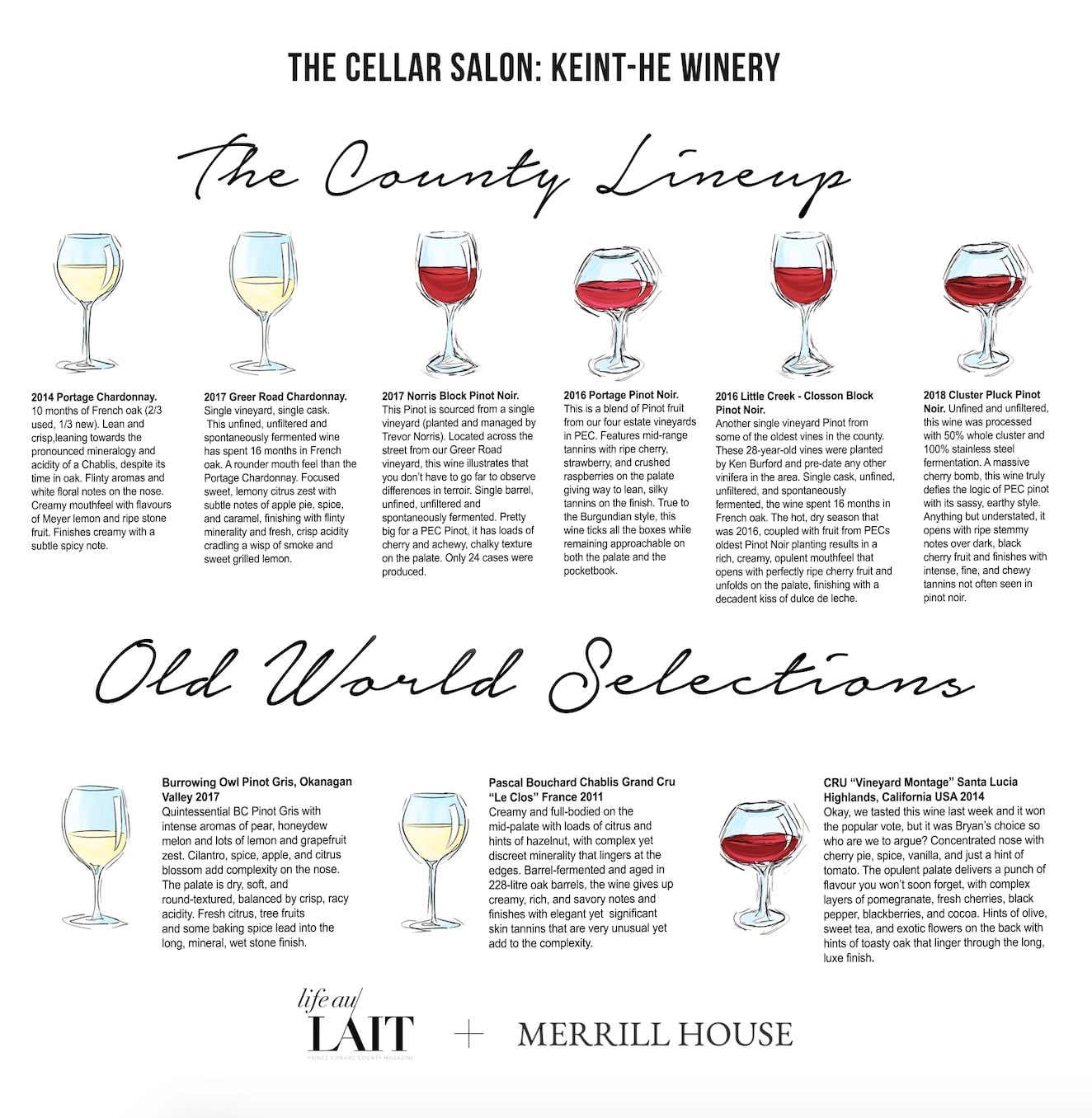 Keint-he: Wine Re-Cap (11.05.2019)
2014 Portage Chardonnay. 10 months of French oak (2/3 used, 1/3 new). Lean and crisp, leaning towards the pronounced mineralogy and acidity of a Chablis, despite its time in oak. Flinty aromas and white floral notes on the nose. Creamy mouthfeel with flavours of Meyer lemon and ripe stone fruit. Finishes creamy with a subtle spicy note.
2017 Greer Road Chardonnay. Single vineyard, single cask. This unfined, unfiltered and spontaneously fermented wine has spent 16 months in French oak. A rounder mouth feel than the Portage Chardonnay. Focused sweet, lemony citrus zest with subtle notes of apple pie, spice, and caramel, finishing with flinty minerality and fresh, crisp acidity cradling a wisp of smoke and sweet grilled lemon.
2017 Norris Block Pinot Noir. This Pinot is sourced from a single vineyard (planted and managed by Trevor Norris). Located across the street from our Greer Road vineyard, this wine illustrates that you don't have to go far to observe differences in terroir. Single barrel, unfined, unfiltered and spontaneously fermented. Pretty big for a PEC Pinot, it has loads of cherry and a chewy, chalky texture on the palate. Only 24 cases were produced.
2016 Portage Pinot Noir. This is a blend of Pinot fruit from our four estate vineyards in PEC. Features mid-range tannins with ripe cherry, strawberry, and crushed raspberries on the palate, giving way to lean, silky tannins on the finish. True to the Burgundian style, this wine ticks all the boxes while remaining approachable on both the palate and the pocketbook.
2016 Little Creek – Closson Block Pinot Noir. Another single vineyard Pinot from some of the oldest vines in the county. These 28-year-old vines were planted by Ken Burford and pre-date any other vinifera in the area. Single cask, unfined, unfiltered, and spontaneously fermented, the wine spent 16 months in French oak. The hot, dry season that was 2016, coupled with fruit from PECs oldest Pinot Noir planting results in a rich, creamy, opulent mouthfeel that opens with perfectly ripe cherry fruit and unfolds on the palate, finishing with a decadent kiss of dulce de leche.
2018 Cluster Pluck Pinot Noir. Unfined and unfiltered, this wine was processed with 50% whole cluster and 100% stainless steel fermentation. A massive cherry bomb, this wine truly defies the logic of PEC pinot with its sassy, earthy style. Anything but understated, it opens with ripe stemmy notes over dark, black cherry fruit and finishes with intense, fine, and chewy tannins not often seen in pinot noir.
Elsewhere Lineup (Bryan's Choice)
Burrowing Owl Pinot Gris, Okanagan Valley 2017
Quintessential BC Pinot Gris with intense aromas of pear, honeydew melon and lots of lemon and grapefruit zest. Cilantro, spice, apple, and citrus blossom add complexity on the nose. The palate is dry, soft, and round-textured, balanced by crisp, racy acidity. Fresh citrus, tree fruits and some baking spice lead into the long, mineral, wet stone finish.
Pascal Bouchard Chablis Grand Cru "Le Clos" France 2011
Creamy and full-bodied on the mid-palate with loads of citrus and hints of hazelnut, with complex yet discreet minerality that lingers at the edges. Barrel-fermented and aged in 228-litre oak barrels, the wine gives up creamy, rich, and savory notes and finishes with elegant yet significant skin tannins that are very unusual yet add to the complexity.
CRU "Vineyard Montage" Santa Lucia Highlands, California USA 2014
Okay, we tasted this wine last week and it won the popular vote, but it was Bryan's choice so who are we to argue? Concentrated nose with cherry pie, spice, vanilla, and just a hint of tomato. The opulent palate delivers a punch of flavour you won't soon forget, with complex layers of pomegranate, fresh cherries, black pepper, blackberries, and cocoa. Hints of olive, sweet tea, and exotic flowers on the back with hints of toasty oak that linger through the long, luxe finish.