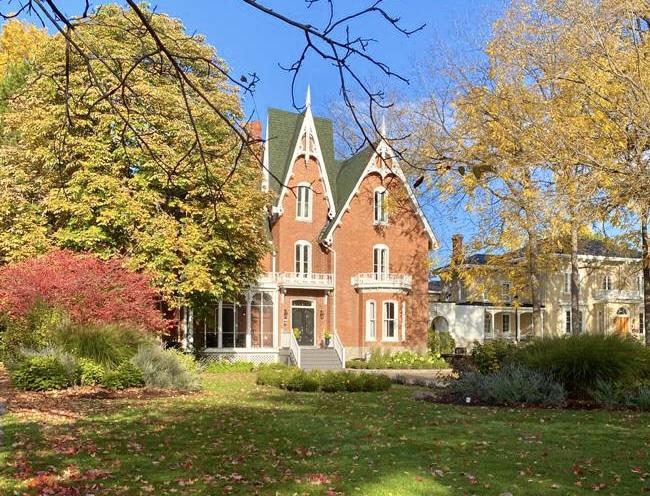 Merrill House, Picton


| A Gothic Revival Boutique Hotel
BUILT IN 1878 FOR JUDGE EDWARDS MERRILL, MERRILL HOUSE HAS BEEN RESTORED TO ITS VICTORIAN GLORY: A MAGNIFICENT, STATELY HOME IMBUING LUXURY, TRANQUILITY AND BEAUTY.

Every room is individually designed, inviting you to immerse yourself in Canada's newest boutique hotel experience. Enjoy the ultimate in personal service, modern technology and luxurious amenities as you indulge your senses in fine art, French cuisine and a meticulously curated wine collection.
Merrill House is furnished with a balance of fine antiques and artefacts, contemporary art and modern appointments. Like every room, every piece has a story and the Merrill team is delighted to share it.
Merrill House features a large cellar, conservatory bar, sauna, virtual reality lounge, drawing room, study, cocktail parlour, sculpture and photography gallery, balconies, outdoor and indoor fireplaces, beautiful gardens, gym and Merrill museum.
Every room is equipped with a brand new bathroom, iPad, smart television with Alexa, small library and all suites have minibars. Room rates include a complimentary gourmet breakfast by Breakfast Chef Lili Sullivan. Enjoy freshly squeezed orange juice, croissants, breads, fruit salad, a hot item from our Breakfast Menu and a selection of coffees, teas and herbal infusions from the Rare Tea Company.
call to action here
visit us online/our location/call us
MERRILL HOUSE WANTS TO SEND SOME #COUNTYLOVE TO ANOTHER STALL IN THE MARKET—COMING SOON/
FOLLOW THE COUNTY LOVE CHAIN +
CLICK THE YELLOW ICON TO VISIT THE market STALL!