According to the Smithsonian, the chicken epic began 10,000 years ago when it became the first domesticated animal. Rice is a bit older, 12,000 plus years. No wonder these two legends go so well together. It's a combination dish that transcends many international cuisines and serves many cultures. In celebration of the upcoming Chinese New Year, I've created a crispy baked Asian chicken dish with some tempting mushroom and pancetta fried sticky rice.
Lucky for us, most of the core ingredients can be found in the County. First, the chicken. Dependant on the time of year, you can choose between our small boutique chicken farms around the region (though availability is limited during the winter) or Prinzen Farms, a local business with a larger commercial outlet, where you can pick up fresh local chicken at their retail shop. Or you can get Ontario chickens from local butchery, Ralph's Meat Market.
For this recipe, I prefer using full chicken thighs, drumsticks or quarters that you can cut in half. If you decide on a whole chicken, double the marinade and coating. If you're looking for chicken in the warm seasons, the County has some incredible organic and bio-diverse farms that sell beautiful chickens.
Second, the mushrooms. The Wellington Mushroom Farm's retail store is open every day to the public. I prefer shitake mushrooms, but cremini or oyster would also be tasty. All are available at the shop. As for Asian spices and supplies, Taste Your World on the main street in Picton is a great source. You'll be able to find Five-Spice powder there, the main spice of this dish. I encourage you to make your own though, it's simple and fun. It lasts for months and has a more flavourful punch. Pancetta, the "Italian bacon" can be found in most grocery shops in the County with the cured meats.
Crispy Five-Spice Sesame Chicken w/ Mushroom Fried Sticky Rice
Ingredients (Serves 6)
6 large chicken thighs*
Marinade for chicken
½ teaspoon five spice powder **
1 tablespoon sesame oil
2 tablespoon soy sauce
1 tablespoon maple syrup
Coating
¼ cup corn meal
½ cup white sesame seeds
¼ teaspoon salt
Rice
1 1/3 cups sticky rice ***  
1 1/3 cups cold water
½ cup pancetta, small dice (or Chinese sausage)
2 tablespoons sunflower oil
3 garlic cloves finely minced
2 teaspoons ginger, finely minced
½ cup onions or shallots, finely chopped
2 cups fresh shitake mushrooms (stems removed & small slices)
1 tablespoon sesame oil
1 tablespoon soy sauce
1 tablespoon maple syrup
¼ cup cilantro, chopped
Five Spice Powder
20 star anise
3 tablespoons fennel
¼ cup Sichuan peppercorns
1½ tablespoons black peppercorns
1 teaspoon clove
Garnish
¼ cup cilantro leaves
1 tablespoon sesame seed
3 scallions, finely sliced (white & half of green parts)
2 red chili peppers, finely sliced (optional)
Part One: Prep
(Done the night before or earlier on the day you plan to serve the dish)
Marinade In a large bowl, mix the marinade ingredients. Pour into a Ziploc bag and place the chicken thighs. Massage marinade evenly into all the thighs. Seal and lay flat in the fridge for a least two hours. (longer the better)
Rice  Place the rice in a mesh colander and rinse with cold water till it runs clear. Place rice in a pot with 1 cup of cold water cover. Bring to boil and then simmer till cooked, about 20 minutes. With a fork, remove the rice onto a plate and gently spread out to cool to room temp. Cover with plastic wrap and place in the fridge for two hours or longer. (the colder, the better).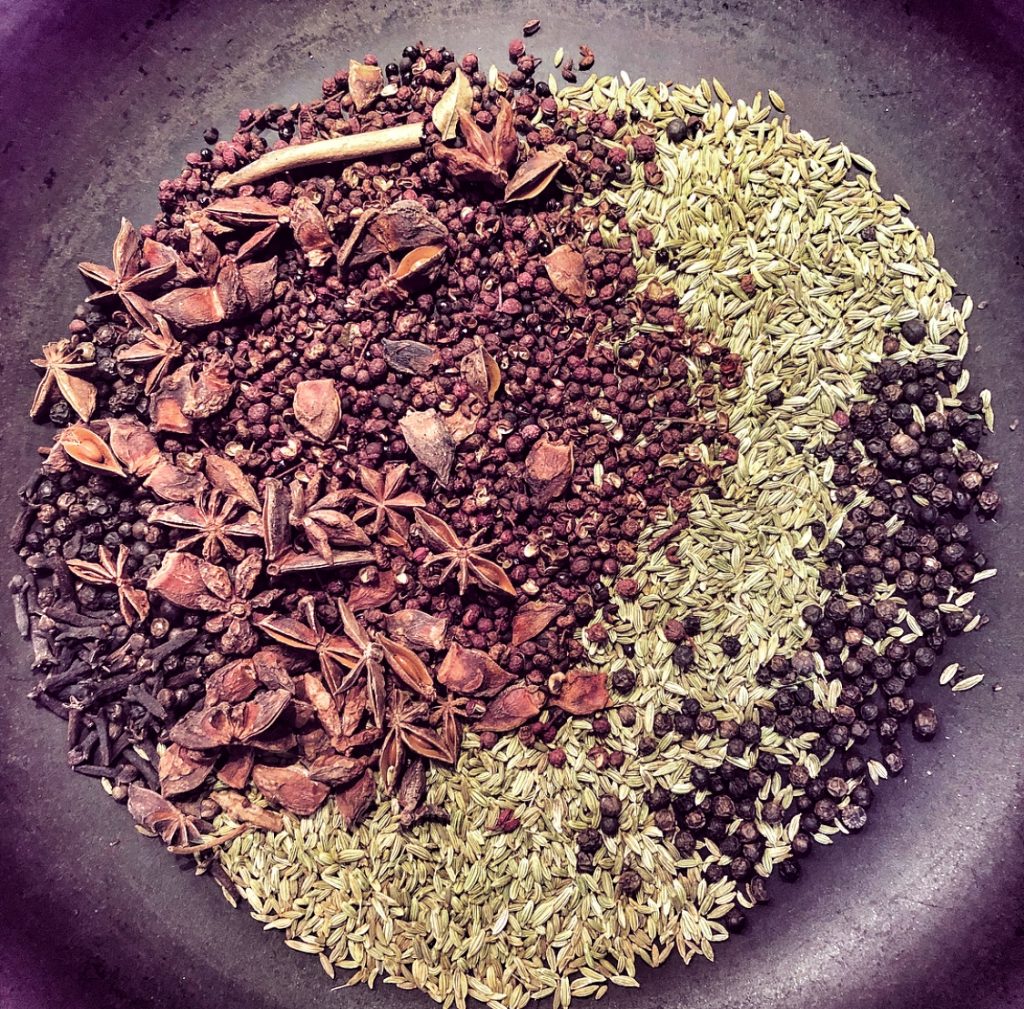 Five-Spice Power In a medium hot dry frying pan, toast the spices for around 3 to 4 minutes, stirring often, to prevent burning. Cool spices on a plate for 5 minutes, then grind in a coffee grinder or similar machine to a fine powder. Seal in an air tight jar. Keeps for months.
Part Two: Cooking
Preheat your oven to 400F. 

Place the corn meal, sesame seeds and salt in a shallow bowl, mix well. Pat each thigh with paper towel to remove excess moisture. Roll each thigh in the dry mixture. Bake the chicken on parchment paper in the oven for 30 minutes, reduce to 350F and cook a further 20- 30 minutes till golden brown, crispy and cooked through.
While the chicken is cooking, prepare the fried rice. Preheat a wok or large frying pan over medium high heat and fry the pancetta. Remove and place in a bowl. Keep the fat in the pan. If there is not enough fat, add a bit of sunflower oil. Sauté the chili, garlic, ginger and onion for a couple of minutes on medium heat. Remove and place in the bowl with the pancetta. In a couple of batches, fry the mushrooms. Use a bit of sunflower oil for each batch. Remove and place in the bowl.
Retrieve the rice from the fridge. Add the sesame oil to the medium hot pan and carefully break apart the rice. Stir fry for two minutes. Add the soya and maple syrup, stir and cook another two minutes, add the bowl of cooked ingredients back into your pan. Add in the cilantro. Make sure everything is well incorporated. Keep warm on low till ready to serve with chicken.
Part Three: Plating
Place the rice in a large mound in the middle of the platter and place the thighs leaning around the outside of the rice hill. Sprinkle with sesame, cilantro, scallions and chili.
* Chicken thighs trimmed with skin attached. You can also use a combination of drumsticks and thighs.
** Five-Spice powder can be bought in the spice section of a grocery store or make your own.
*** If you can't find sticky rice, jasmine rice can be a good substitute.
While the recipe might look a bit complicated at first glance, it isn't. Promise. It's done in two easy stages and one of those can happen the night before. All the ingredients work well together and the variety of crunchy, sticky, salty, sweet and hot is irresistible. Any questions about the recipe or sourcing? You can reach me at [email protected]
"gong hei fat choy"
(Happy New Year in Cantonese)
BUY LOCAL
Thyme Again Gardens – Carrying Place
Wellington Mushroom Farm – Wellington/Bloomfield)
Taste Your World – Picton