If you're even just a little bit of a wine geek, the thought of witnessing Canada's 'oenolympics' is a somewhat dizzying prospect. I got my invitation from WineAlign's "head wineaux" Bryan McCaw while topping up and labelling Chardonnay at The Old Third Winery in Prince Edward County.
If you're out of the know, WineAlign is an online wine resource and one-stop digital hub where highly regarded critics and wine lovers unite in the interest of reviewing an expansive living catalogue of wines. WineAlign also runs the National Wine Awards of Canada, colloquially known as 'The Nationals'.
The Nationals were coming up, Bryan said, hinting that the unpublicized annual judging was about to happen in Prince Edward County and I might want to drop by with a camera. At that point, I knew a little about rating systems and wine awards, but admittedly not a lot. It was time to step up my game.
1,815 different bottles of Canadian wine from 259 wineries across 8 provinces. I was officially interested.
"You need to see it," he said, eyes glinting. "It's the largest line-up of Canadian wine in one room ever." Some stats were recited: 1,815 different bottles of Canadian wine from 259 wineries across eight provinces. I was officially interested.
Google obliged as a decent platform for learning the basics, then I turned to my County wine people for the real goods. Numerous perspectives later, and with no small amount of awe (plus a few philosophical questions of my own), I poured a glass of Pinot and set my mind to answering the big questions 'Why do wine awards exist?' and 'Who do they really serve?' I had three solid answers handed to me.
First, ratings and awards give wine buyers the confidence to choose between wines they've never tasted or heard of. They also highlight the particular offerings of a defined wine region—in the case of The Nationals: Canada. And finally, they validate the wineries' formidable endeavours to nurture and cultivate that delicate noble grape into one of the world's most enjoyed pastimes.
I've been there—standing at a winery or staring down bottles at the LCBO, unable to make a good decision on my own.
Diving right in—how do ratings or medals help consumers make sense of the sea of bottles at the store? I've been there—standing at a winery or staring down wine at the LCBO, unable to make a good decision on my own. County sommelier, writer and wine consultant, Jay Whiteley weighs in. "Anyone could have a sticker printed up with 92 on it and the wine would sell [but] do the consumers know the differences between the competitions? Is the Idaho State Fair as important as the London Wine and Spirits Competition or do most people simply look at the number of golds and buy based on that? Many of the average consumers don't know who John Szabo is or even Robert Parker or Jancis Robinson for that matter—they only see a number." So do ratings and awards only help a savvy wine drinker? Jay doesn't think so. "The average consumer is overwhelmed with choice and a higher number, or gold sticker, will help them make their decision—that is money well spent by some wineries." In other words, it's not blind faith when a highly respected group of judges, working inside tightly controlled judging conditions, deliver their verdict on a wine. If consumers are familiar with the names of the judges and know they like the same things they do—that's even better.
Today we embrace those qualities imparted to wines by the cooler climate, the special soils, and the hallmark spirit of Canadian winemakers.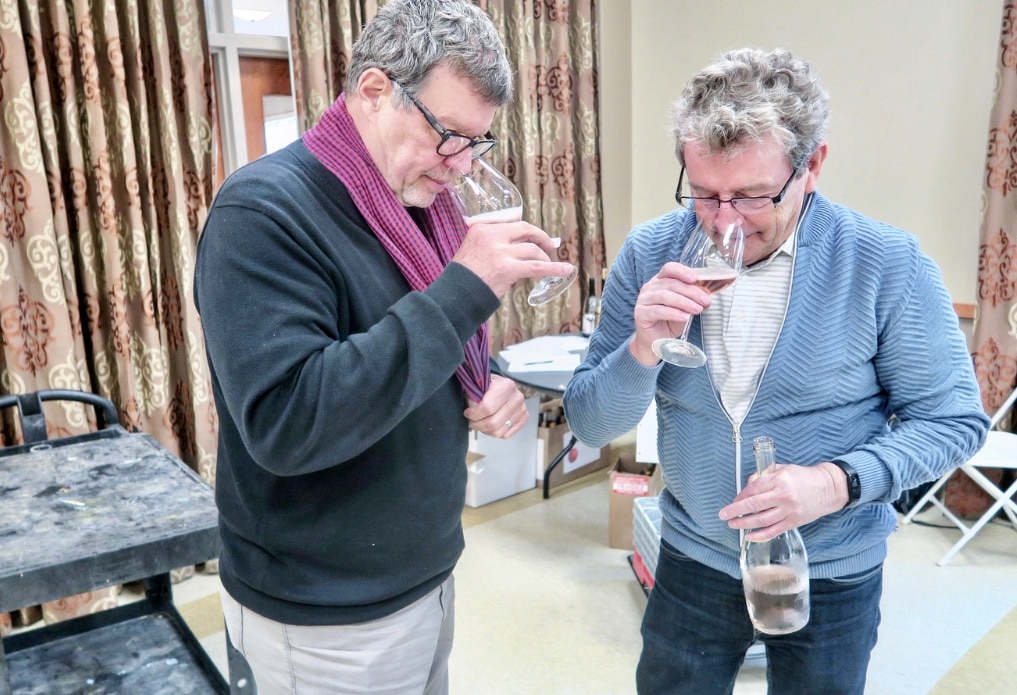 Now let's look at Canada as a wine producing country. The Nationals were started 19 years ago when Canadian wine was still a fledgling industry. "We were in Australia," remembers distinguished critic Anthony Gismondi, co-developer of the National Wine Awards of Canada alongside his celebrated Torontonian counterpart David Lawrason. "David was at Toronto Life and I was at the Vancouver Sun and we turned to each other and said 'we should do this in Canada.'" The competition was small at first, reflective of the industry here at the time…there were 500 to 600 wines entered, but over the years it evolved along with a growing Canadian appetite and proficiency in winemaking. It's important to recognize that some wineries choose not to enter competitions for a variety of reasons ranging from "We don't have the 'extra' wine" to "We are doing our own thing here"—and that's cool, but a very large number do and it's fair to say that a solid representative sample of the Canadian winemaking scene is represented in the big awards. The scene is also growing in importance; today the world is embracing those qualities imparted to wines by Canada's cooler climate, the special soils, and the hallmark spirit of Canadian winemakers.
For County producers, recognition is not an indulgence, but an indication that marks a triumph over adversity.
This enduring spirit is particularly alive in those for whom awards provide validation of their efforts. In this instance, recognition is not an indulgence, but an indication that marks our triumph over adversity. In Prince Edward County, a burgeoning wine region with magical soils and pseudo-Burgundian terroir, we host some of the most difficult wine-growing conditions on the continent. County winemakers do whatever it takes to bottle that sublime nectar. The weather here is always unpredictable and often oppressive, presenting unique challenges to our farmers year after year, so that every course of action in the field is a combined feat of sweat, creativity, and prayer. The effort required to "hill up" after harvest, burying the vines in soil for the white season, and then gently unpacking them in the spring is laborious and painstaking. And when they do eventually manage to guide that noble fruit through to harvest, the size of the County's yields (approximately one-third of Niagara's) results in small lots of wine that is sold by or before the end of the high season with little reserve available for the lean one. Throw in Ontario's painful tax percentages on wine and tourists that balk at the price point (comparing it to bottles from large producers in more amenable wine regions) and it becomes obvious that winemaking in the County is a tough gig. The winery owners and producers here have to love their work truly and deeply just to keep on keepin' on and the compliments and accolades are very welcome.
Canada's first Master Sommelier, John Szabo tells me it's worth it. "It's been highly satisfying to see PEC emerge over the past decade, contributing in a meaningful way to the diversity of the Canadian wine landscape." And the results speak for themselves, he continues, "By now it's become clear that the County excels in a few categories, namely Chardonnay; PEC brought in 5 of 17 gold medals from across Canada this year [at The Nationals]—that's impressive. Pinot Noir and sparkling are also naturals in this cool climate with its bony, limestone soils. As vines mature and experience grows (also, hopefully quantities), I'd expect to see PEC wines on top tables around the world one day."
"The harder the wine is to make, the better it tastes," I read on a local somm's Instagram recently, so, if the proof of the pudding is in the eating, then the validation for all of this effort surely rests in the hands of the critics.
The National Wine Awards of Canada take that charge very seriously. Walking in through the side door of Wellington's Lehigh Arena where the judging was taking place, I legitimately gawked for about 20 minutes. At first it was the huge quantity of wine that made my jaw drop, but what quickly made my heart stop was the beauty of the process, the choreography of the affair. It was like watching the ballet.
"Our goal is to give the wine every chance possible," says Gismondi. "The panels are small and highly experienced—many of us are tasting thousands of wines all year and worldwide, so we have broader experience."
The judges love it here: they love the pace, they love this wine country.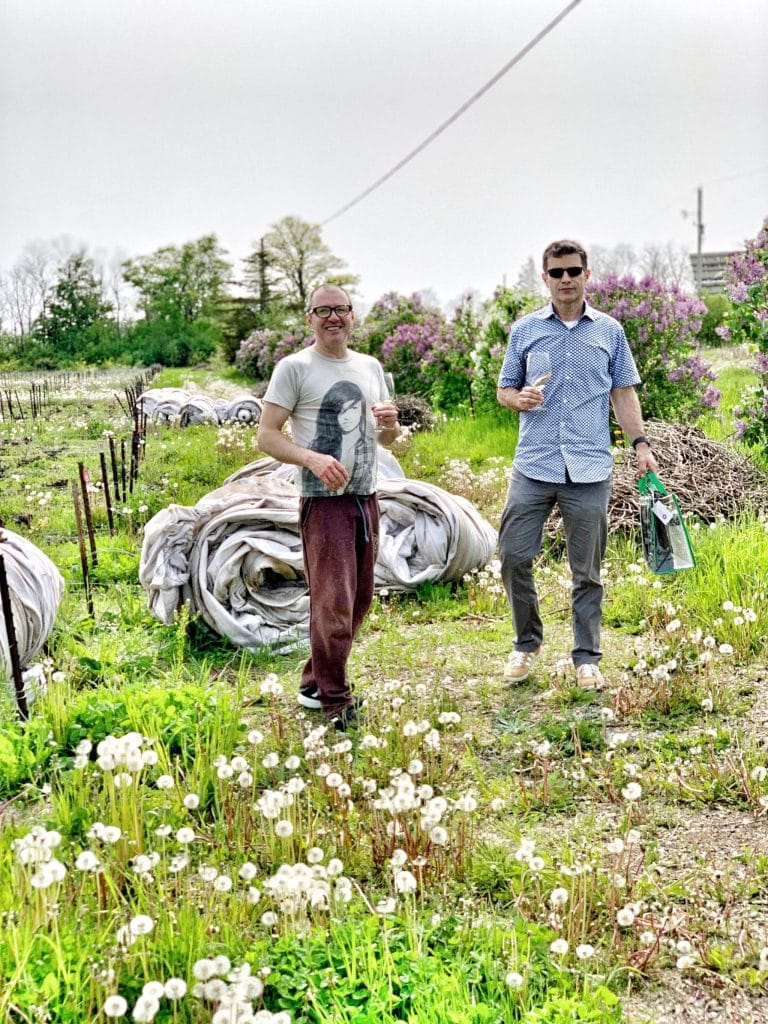 "It's an expensive, rigorous process," cements Bryan. "A rigid system that takes two to three months to implement properly—we don't leave room for mistakes." How does PEC factor in, I wonder aloud. "I love the County," he says. "That's why we're here." The awards are held in a different Canadian wine region every year, creating serious logistical challenges and expense. The benefit of this approach, however, is that new regions are showcased to wine writers from across the country and around the world. In addition, the Nationals support local wineries, hotels, transportation, catering, restaurants, and event spaces. "Everyone in the County has gone above and beyond to help us achieve excellence in our pursuit—from Lisa Lindsay, Manager of Community Centres and Events, who's been incredibly accommodating and helped us at every step of this process, to Rebecca Hunt from Picnic Food Truck who's kept us all fed and happy. And," Bryan adds, "the judges love it here: they love the pace, they love this wine country."
We're lucky to have them. The Nationals are one of the most coveted wine competitions and they're tasked with a weight of responsibility—properly highlighting the best of the country's wine. They handle it in the only way they can, by controlling the quality of the process from head to toe—something that they've refined over many years. "We're not a weekend affair," Bryan emphasizes. "Judging takes place over five days with two days dedicated to re-tasting the top scoring wines. Top-quality, well-traveled, peer-respected judges are kept focused and fresh with small flights and limited daily tastings. Winning wines will be tasted up to three times, by up to a dozen different judges." These guys do everything possible to control a highly subjective experience to make the results meaningful and true.
Flights are built in advance, pairing like wines in the same varietal (because some Chardonnays are worlds different from others) and sophisticated software is used to run the the whole process, incorporating multiple checks and balances to eliminate mistakes. On the floor, every bottle has a barcode and a label that's double and triple checked. The wines are served in quality stemware and every glass is washed, then polished by hand. The room's temperature is controlled to make sure the wine is optimal serving condition—some are chilled, others opened in advance. In the next room, the judges taste between 60 and 80 wines a day, shifting from white to red to white again so their palates don't get tired. They run a tight ship and it's a beautiful operation to watch in action. The professionalism continues at the table. I sat in with DJ Kearney, wine educater, writer, judge, presenter, and chef—along with her illustrious panel—to watch and listen as they approached a flight of sparkling whites. Their judgement was elegantly and competently executed and even minor disputes in judgement were handled with grace.
"Coming down a few points to be collegial" says Bruce.
"Going up to 91" Jackie concedes.
"It's a strong advocate of the traditional method" DJ reinforces.
"It's basically a champagne!" Bruce pronounces with a smile.
And the matter is closed until the wine returns for another taste in a later round.
The idea of the public being able to actively participate in the process creates an interesting dimension to the judging cycle.
The Nationals aren't the only awards in the country—in fact, they weren't even the only awards in the County this past June. I sat in on another judging panel at the All Canadian Wine Championships at The Waring House in Picton and it was great. Structured less formally than the Nationals, but including panels of respected judges, the competition adopts a vibrant and relevant approach to critical tasting and its implications. Sommelier and Manager of the All Canadians Bev Carnahan, talked to me about the competition and explained how one of the big payoffs of their awards cycle is a public facing event. The winning wines are presented at Uncork Canada, a unique tasting festival where the public are invited to try the competition's winning wines from across the country—some of which would be unavailable in Ontario. The idea of the public being able to actively participate in the process creates an interesting dimension to the judging cycle. Invited to join the judges in a memorable dinner at the great Flame + Smith after a long day of tasting, I noted that the wine talk didn't die at the panel. Both new friends and old at the table delighted in talking to me about the great and interesting wines they'd tasted in the County and we shared beautiful bottles together amid some great discussion.
Another fascinating example of a wine competition (and one I'm looking forward to attending in the fall), is exemplified in The Judgement of Kingston. This serious-but-fun event pits a handful of select Prince Edward County wines against international wines of the same varietal in a blind tasting. In November of this year, the Judgement will rule between Pinot Noir from PEC vs. bottles from New Zealand. In its fourth year, this is a well-loved event and invites wine enthusiasts to buy tickets and participate in the experience, though the judging rests formally in the hands of four highly decorated experts.
Viticulture is on a knife edge here. You can feel it and read it in the faces in the winemakers.
Back at the Nationals, David Lawrason points out an irony in the evolution of Canadian wine. "Both vines and winemakers are maturing and getting better at what they do. They're on a world stage—the quality is close, but the quantity is tiny. Even if the world wants it in the marketplace, we can't produce enough." But we're raising wineries and winemakers with strong hearts and stomachs, I note and David agrees. "Viticulture is on a knife edge here. You can feel it and read it in the faces in the winemakers."
So, there is still room for Canadian wine to grow and how that will look is anyone's guess, but with a large percentage of wineries represented in our country's biggest awards competitions—that's the space to watch.
Today the Nationals, tomorrow the World.